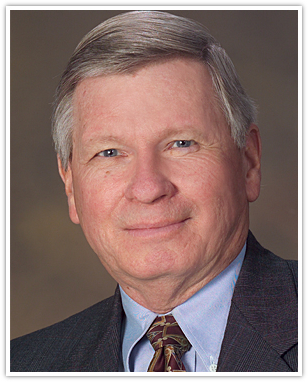 FORMER STUDENTS
Gordon Bjoraker, 1985 (PTYS)Michael Feierberg, 1981 (PTYS)David Melendrez, 1991 (Geosciences)
Harold Larson
University Distinguished Professor, Emeritus
Ph.D., 1967, Purdue University
Kuiper #353
520-621-6943
RESEARCH INTERESTS
Dr. Larson's activities fall into two categories: high resolution infrared spectroscopy applied to planetary atmospheres, comets, asteroid surfaces, and astrophysical objects; and development of new pedagogical models for teaching science to undergraduates in general education courses.
His observing program included continuous participation for over two decades in the NASA airborne astronomy program using the NASA Kuiper Airborne Observatory. During this period he designed and developed three generations of high resolution infrared spectrometers optimized for operation in aircraft.
He also had observing time on the Infrared Space Observatory (ISO) to study hydrated minerals on asteroid surfaces and in the circumstellar environments of stars.
His education program involves the use of teaching teams to enhance high-enrollment general education courses through collaborative learning activities that are implemented primarily by undergraduate preceptors. This program is funded by the U.S. Department of Education and the Kellogg Foundation with the intent of improving student outcomes by exploring new roles for faculty, graduate teaching assistants, and the students themselves in general education courses.
More about Dr. Larson