Supporting material for Science paper press release
Authors: Shane Byrne and Andrew Ingersoll
---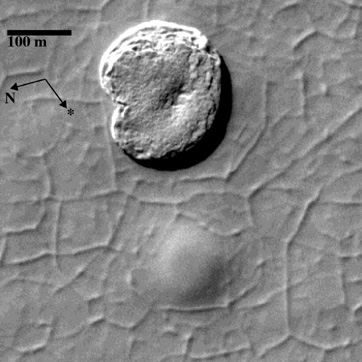 Fig. 1. High resolution view of a typical depression in the polar CO2 ice ('Swiss-cheese depression'). All the salient features of the Swiss cheese features are visible here, including steep walls, flat floors, indications of some collapse around the walls and a slight asymmetry in the north-south direction. Just below and to the right is a slight depression which may be the progenitor of a future Swiss-cheese feature. The 'elephant hide' appearance of the surrounding terrain is commonly observed near these features. In this and subsequent figures arrows denote the direction to the sun (*) and north (N). Sub-frame of MOC narrow angle image M09/00609, taken at 87o S, 353o E, Ls 237o.
---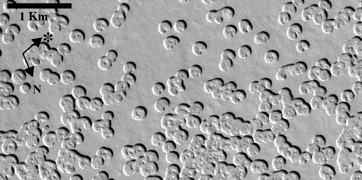 Fig. 2. Many Swiss cheese features destroying the upper 8m thick layer. All the features displayed here have a consistent orientation, with their asymmetric 'cusps' pointing toward the pole. This is a strong indication that insolation has played a dominant role in their formation. The consistency in size indicates these features started forming close in time to each other compared with their overall lifetimes. Sub-frame of MOC narrow angle image M07/04167, taken at 86.8o S, 355o E, Ls 211o.
---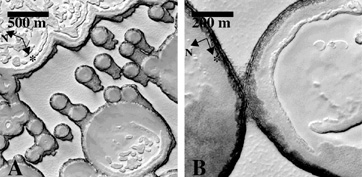 Fig. 3. Layers visible in the walls of the Swiss-cheese. In some places only two main layers can be seen (A), other locations show up to 15 closely spaced layers (B). A) Sub-frame of MOC narrow angle image M12/00161, taken at 86.8o S, 12o E, Ls 294o. B) Sub-frame of MOC narrow angle image M12/01995, taken at 86.9o S, 17o E, Ls 305o.
---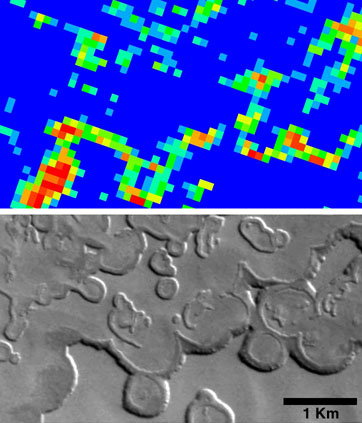 Fig. 4. Example of Swiss-cheese observed by THEMIS in the top panel (I01162002) near the cap center at 86.5o S, 75o W, Ls 345o. The temperature ranges from ~150 (blue) to ~160 Kelvin (red). The MOC narrow angle image in the bottom panel (E05/02715) shows that the warm areas correspond to the floors of the depressions near the walls. These warm areas cannot be CO2 ice.
---
THEMIS infrared data is available at Arizona State University
MOC narrow angle image data is available at Malin Space Science Systems
---