Exhibition Prospectus
The Lunar and Planetary Laboratory invites you to submit your art for consideration for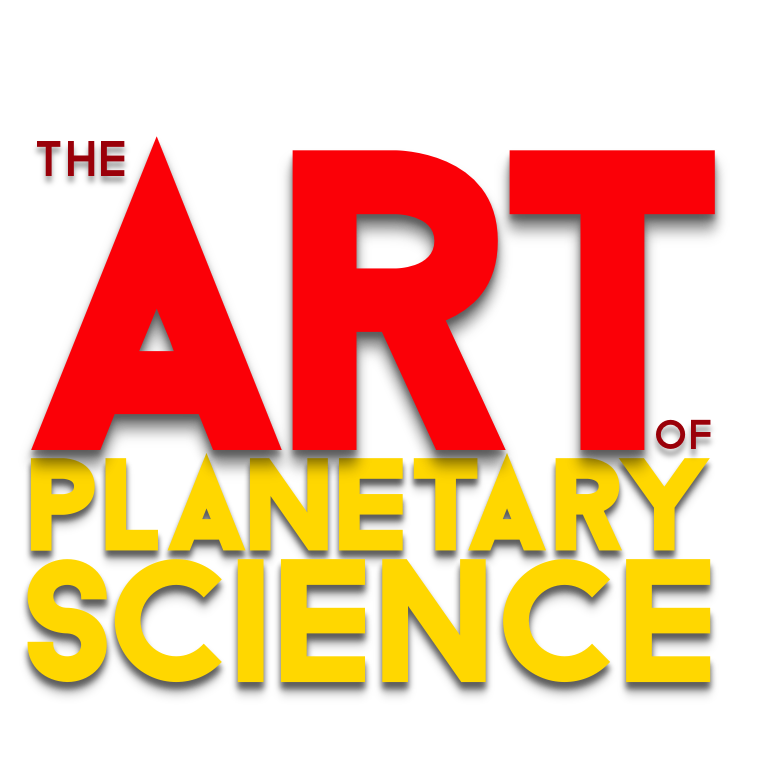 AN EXHIBITION
December 4th, 2013 from 6-10pm
Lunar and Planetary Laboratory
1629 E University Blvd
Tucson AZ 85721

http://www.lpl.arizona.edu/art
Exhibition Description:
We are seeking work inspired by planetary science or created from scientific data. All art must be related to planetary science, but it doesn't have to include planets! Please see our website for more information on planetary science and what we do. All types and levels of artists and scientists are encouraged to submit!
If you are an artist (non-scientist), then we want to know how you imagine, and what inspires you about, science and the solar system. It may be a planetary landscape, an abstraction of a scientific principle, or a poetic representation of the relationship between planetary science and society. It might be work inspired by the dynamic atmospheres, surfaces, or interiors of planets, or by planetary motion. We don't want to limit your creativity- if you can relate your work to planetary science in some way then it is appropriate for submission. If you are unsure whether your piece or idea fits into the scope of this event, please email us and ask! See the Inspiration section of our website for information and ideas.
If you are a scientist, this might be microscope images, spectra, astronomical images from telescopes or spacecraft, images or animations from computer models, schematics and diagrams, 2 or 3D representations of natural patterns or equations, etc. You don't have to be a planetary scientist though! If you are a chemist, your art might be related to, for example, chemical reactions that occur in space, or that are a part of atmospheric processes. If you are a physicist, your art might be related to laws of optics that govern lenses and mirrors we use to explore space.
Awards and Prizes:
We will award a first, second, third place, and two honorable mentions in both categories (art created from scientific data, and art inspired by science). A Best of Show winner will be chosen from one of the two categories and will receive the Adobe Creative Suite of his/her choice*. First place winners will receive a single Adobe program of his/her choice*. Second and third place winners will receive prizes from local businesses, including Sarnoff Art Materials and Posners Art Store. Winners and selected work will be featured at Craft Tucson and Tucson Museum of Art's Art on Tap: Art, Beer and Music Fest, December 7th. All participants will be named Lunar and Planetary Laboratory Participating Artists, and may be featured on the website. Jurying will be done by Jim Scotti and Adam Showman, both scientists and artists from LPL. A third judge has yet to be chosen, most likely from outside the department.
*These prizes have been donated by an anonymous private donor. Because they are winners' choice, they will be ordered after the event and may take up to two months to arrive.
We are accepting any type of art we can display on a wall, table, floor, or screen: images, paintings, photography, sculptures, poetry, animations, films, mixed media, etc. Prints of original works are acceptable. You may submit up to 4 pieces, but please complete separate submission forms for each. All art that is submitted to us for this event will be returned unless you choose to donate it to our collection. Donated art will be displayed at future events or hung throughout the LPL building. No artwork will be listed for sale at this event.
All artwork must be ready to display upon delivery. Read our Display Requirements on our website for information on different media types. Artists will be required to sign a Loan Agreement upon delivery for insurance purposes.
Submission Image:
We suggest that you submit a Submission Image (jpg or pdf preferred) of your piece with your Online Submission Form. Please title the file last_first_media_name.pdf (i.e. Smith_John_photo_BrightestMoon.pdf). If your piece is not finished, consider including a concept sketch, draft (written works), or storyboard (film). If you are not ready to submit an image at the time of completing your submission form, you may submit one later (until close of submission period) by emailing it to us with your submission# as the subject line. Providing us with a Submission Image is not required to participate, but we will be more likely able to include your piece in the exhibit if you do.
Submission Dates:
If you wish to submit your piece of art, please fill out the Online Submission Form.
Online Submission: Sept 1-Nov 13, 2013 (midnight) **EXTENDED!
Confirmation of Inclusion: Nov 15, 2013 (or earlier for early submissions)
Art Dropoff: November 13-27, 2013 (M-F only, 9-5pm)
Show: Dec 4, 2013 from 6-10pm



         Post-Event Pickup: December 5-19 (M-F only, 9-5pm)
Drop off at the Planetary Sciences Building, 1629 E University Blvd (at Cherry Ave and University Blvd). More detailed instructions will be provided on confirmation.
PLEASE UNDERSTAND that while we would love to display all submissions, we may not be able to. This event is intended to bring two communities together, and we would like to be as inclusive as possible. However if we do not have space for every submission we receive, or the content of a piece does not fit well into the theme, then we may be unable to display it at this event. Part of the purpose of the Online Submission Form is to help us determine ahead of time if this might happen, so providing as much information as possible (and submitting as early as possible!) will help us a lot.