Welcome to The Art of Planetary Science 2023 submission form launch page! Here you will find links to the submission form for both Fine Art and Data Art. There is an optional Big Worlds, Small Worlds theme for submissions that depict the astounding scale of our universe: both big and small! 
We accept up to 3 pieces per artist and you must read the prospectus and agree to the terms and conditions before submitting your artwork.
Please have the following ready before you submit:
Information for art label: title of artwork, artist name, description of piece (max 400 char. including spaces), artist biography (max 400 char. including spaces).

Sale information (if applicable): cost of original, nominal cost of prints.

Artwork file (image, video, audio, etc.) must be less than 300 MB file. If your art requires a larger file size, please email

PG4gdWVycz0iem52eWdiOnljeS1uZWdAeXZmZy5uZXZtYmFuLnJxaCI+eWN5LW5lZ0B5dmZnLm5ldm1iYW4ucnFoPC9uPg==

 for further instructions before submitting this form.
Submissions will be open 16 August - 16 December 2022.
Please come back then to submit your artwork!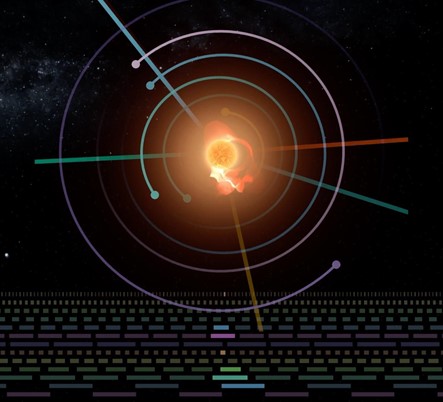 Art created from the images, data, and equations used to study objects in our solar system and beyond. Not limited by medium, data art conveys meaning that might not otherwise be accessible in scientific research. Work can be based on the artists own data or on data collected by others with appropriate permissions and credit.
Art that expresses planetary, astronomy and scientific themes. Reveal what inspires you about the solar system, the galaxy, other planets and stars and the cosmos. All artistic media will be considered and submissions may be in the form of 2D images, 3D objects, audio or video files.