Canyon de Chelly and the Salt River Canyon
Fall, 1998
---
This field trip, to some extent, retraced the 1992 trip to the Canyon de Chelly. The planetary connection for this trip was a comparison of the Canyons of Mars and Earth, although we did a lot more than talk about canyons. One of the mechanisms for canyon formation is by sapping processes, this mechanism has been invoked for several canyons on Mars, and the Canyon de Chelly, conveniently, displays many characteristics of a sapping landform.
The field trip began on the roof of the Lab where we talked about Tucson area tectonics. On our way to the Day 1 destination of the Salt River Canyon, we talked about stream terraces, pediments, mining and economic geology, fossils, and giant landslides. Day two saw us talking about the volcanic field near Show Low and the hydrology of the Little Colordao River. We stopped at the Petrified Forest National Park, and had lunch overlooking the Painted Desert. We saw the Hopi Buttes, talked about sapping in the Canyon de Chelly, and talked about the Navajo and Hopi around the fire that night. We hiked down to the White House ruins and learned about the Anasazi, we also learned about the geology of the general area around the Canyon De Chelly and about valley networks in the Arctic and their application to Mars. That afternoon on our way back to Tucson, we talked about washboards and dinosaur footprints.
Photos courtesy of Andy Rivkin and Jason Barnes.
---
| | |
| --- | --- |
| When setting out on a Field Trip, it's important to have the right kind of supplies: water bottle, Roadside History of Arizona, Field Trip Guide, and the Ice Scoop. | |
| | | |
| --- | --- | --- |
| | On the first day we passed through the Salt River Canyon. | |
And got as much of a group photo as we were going to get while Moses and Lazlo talk about rocks.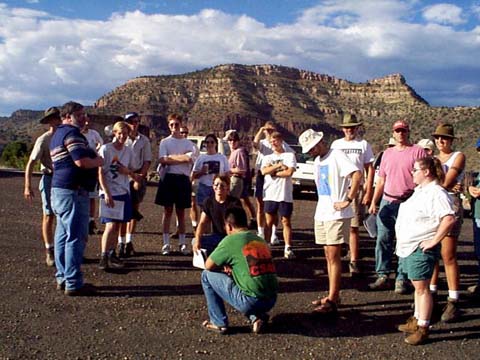 | | |
| --- | --- |
| | David delivers his inspirational `Beginning of Day 2' speech. |
Barb poses with Andy at the top of
the Canyon de Chelly, and with Windy 
on the trail down to the White House ruin.
You can just see a part of our intrepid 
group pausing on their way down to the 
White House Ruin.

Peter Smith and Jim Rice hang out at the overlook point for Spider Rock.
| | |
| --- | --- |
| Joe telling us about dinosaur tracks. Can you find the footprint in the picture? | |