PTYS/LPL Research Scientists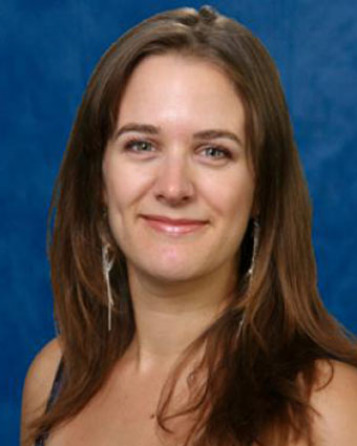 Sonett 214
PG4gdWVycz0iem52eWdiOml3b2VubEB5Y3kubmV2bWJhbi5ycWgiPml3b2VubEB5Y3kubmV2bWJhbi5ycWg8L24+
Veronica Bray
Research Scientist/Associate Staff Scientist
Ph.D., 2008, Imperial College London
Years with LPL: 2008-present
Lunar Studies, Planetary Analogs, Planetary Surfaces, Comparative Planetology and Surface Geology
Dr. Veronica Bray is Planetary Scientist and Spacecraft Operations Engineer at the University of Arizona. Dr Bray's past and current research projects focus on impact cratering, channel formation, fracturing and landscape evolution on a variety of planetary bodies.  She uses observations at multiple wavelengths, computer modeling, terrestrial fieldwork and theoretical analysis to study the surface processes themselves and also the surface/sub-surface properties of planetary bodies. 
Current Grants
High Resolution Imaging Science Experiment (HiRISE), ESP.
Seismometer to Investigate Ice and Ocean Structure (SIIOS) - PSTAR and ICEE2 awards
Ejecta and melt interactions during lunar impact ejecta emplacement - LDAP award
Combining sample analysis and numerical modeling to reconstruct the origin and evolution of flynn creek crater, Tennessee - PGG award. 
Current Spacecraft Involvement
New Horizons - Science Team Member.
Cassini - Associate Science Team Member.
Lunar Reconnaissance Orbiter (LROC) - PSP Targeting Action Team and Science Team Member. 
High Resolution Imaging Experiment (HiRISE) - Spacecraft Operations Engineer and Science Team Member.
Complete publications list available from: NASA ADS Author search: Veronica Bray
Refereed publications (NASA ADS): Calendar Years 2017 through June 2019
Stern, S. A., Weaver, H. A., Spencer, J. R., Olkin, C. B., Gladstone, G. R., Grundy, W. M., Moore, J. M., Cruikshank, D. P., Elliott, H. A., McKinnon, W. B., Parker, J. W., Verbiscer, A. J., Young, L. A., Aguilar, D. A., Albers, J. M., Andert, T., Andrews, J. P., Bagenal, F., Banks, M. E., Bauer, B. A., Bauman, J. A., Bechtold, K. E., Beddingfield, C. B., Behrooz, N., Beisser, K. B., Benecchi, S. D., Bernardoni, E., Beyer, R. A., Bhaskaran, S., Bierson, C. J., Binzel, R. P., Birath, E. M., Bird, M. K., Boone, D. R., Bowman, A. F., Bray, V. J., Britt, D. T., Brown, L. E., Buckley, M. R., Buie, M. W., Buratti, B. J., Burke, L. M., Bushman, S. S., Carcich, B., Chaikin, A. L., Chavez, C. L., Cheng, A. F., Colwell, E. J., Conard, S. J., Conner, M. P., Conrad, C. A., Cook, J. C., Cooper, S. B., Custodio, O. S., Dalle Ore, C. M., Deboy, C. C., Dharmavaram, P., Dhingra, R. D., Dunn, G. F., Earle, A. M., Egan, A. F., Eisig, J., El-Maarry, M. R., Engelbrecht, C., Enke, B. L., Ercol, C. J., Fattig, E. D., Ferrell, C. L., Finley, T. J., Firer, J., Fischetti, J., Folkner, W. M., Fosbury, M. N., Fountain, G. H., Freeze, J. M., Gabasova, L., Glaze, L. S., Green, J. L., Griffith, G. A., Guo, Y., Hahn, M., Hals, D. W., Hamilton, D. P., Hamilton, S. A., Hanley, J. J., Harch, A., Harmon, K. A., Hart, H. M., Hayes, J., Hersman, C. B., Hill, M. E., Hill, T. A., Hofgartner, J. D., Holdridge, M. E., Horányi, M., Hosadurga, A., Howard, A. D., Howett, C. J. A., Jaskulek, S. E., Jennings, D. E., Jensen, J. R., Jones, M. R., Kang, H. K., Katz, D. J., Kaufmann, D. E., Kavelaars, J. J., Keane, J. T., Keleher, G. P., Kinczyk, M., Kochte, M. C., Kollmann, P., Krimigis, S. M., Kruizinga, G. L., Kusnierkiewicz, D. Y., Lahr, M. S., Lauer, T. R., Lawrence, G. B., Lee, J. E., Lessac-Chenen, E. J., Linscott, I. R., Lisse, C. M., Lunsford, A. W., Mages, D. M., Mallder, V. A., Martin, N. P., May, B. H., McComas, D. J., McNutt, R. L., Mehoke, D. S., Mehoke, T. S., Nelson, D. S., Nguyen, H. D., Núñez, J. I., Ocampo, A. C., Owen, W. M., Oxton, G. K., Parker, A. H., Pätzold, M., Pelgrift, J. Y., Pelletier, F. J., Pineau, J. P., Piquette, M. R., Porter, S. B., Protopapa, S., Quirico, E., Redfern, J. A., Regiec, A. L., Reitsema, H. J., Reuter, D. C., Richardson, D. C., Riedel, J. E., Ritterbush, M. A., Robbins, S. J., Rodgers, D. J., Rogers, G. D., Rose, D. M., Rosendall, P. E., Runyon, K. D., Ryschkewitsch, M. G., Saina, M. M., Salinas, M. J., Schenk, P. M., Scherrer, J. R., Schlei, W. R., Schmitt, B., Schultz, D. J., Schurr, D. C., Scipioni, F., Sepan, R. L., Shelton, R. G., Showalter, M. R., Simon, M., Singer, K. N., Stahlheber, E. W., Stanbridge, D. R., Stansberry, J. A., Steffl, A. J., Strobel, D. F., Stothoff, M. M., Stryk, T., Stuart, J. R., Summers, M. E., Tapley, M. B., Taylor, A., Taylor, H. W., Tedford, R. M., Throop, H. B., Turner, L. S., Umurhan, O. M., Van Eck, J., Velez, D., Versteeg, M. H., Vincent, M. A., Webbert, R. W., Weidner, S. E., Weigle, G. E., Wendel, J. R., White, O. L., Whittenburg, K. E., Williams, B. G., Williams, K. E., Williams, S. P., Winters, H. L., Zangari, A. M., Zurbuchen, T. H. Initial results from the New Horizons exploration of 2014 MU69, a small Kuiper Belt object 2019Sci...364.9771S
Singer, K. N., McKinnon, W. B., Gladman, B., Greenstreet, S., Bierhaus, E. B., Stern, S. A., Parker, A. H., Robbins, S. J., Schenk, P. M., Grundy, W. M., Bray, V. J., Beyer, R. A., Binzel, R. P., Weaver, H. A., Young, L. A., Spencer, J. R., Kavelaars, J. J., Moore, J. M., Zangari, A. M., Olkin, C. B., Lauer, T. R., Lisse, C. M., Ennico, K., New Horizons Geology, G. and I. S. T. T., New Horizons Surface Composition Science Theme Team, New Horizons Ralph and LORRI Teams Impact craters on Pluto and Charon indicate a deficit of small Kuiper belt objects 2019Sci...363..955S
Robbins, S. J., Beyer, R. A., Spencer, J. R., Grundy, W. M., White, O. L., Singer, K. N., Moore, J. M., Dalle Ore, C. M., McKinnon, W. B., Lisse, C. M., Runyon, K., Beddingfield, C. B., Schenk, P., Umurhan, O. M., Cruikshank, D. P., Lauer, T. R., Bray, V. J., Binzel, R. P., Buie, M. W., Buratti, B. J., Cheng, A. F., Linscott, I. R., Reuter, D. C., Showalter, M. R., Young, L. A., Olkin, C. B., Ennico, K. S., Weaver, H. A., Stern, S. A. Geologic Landforms and Chronostratigraphic History of Charon as Revealed by a Hemispheric Geologic Map 2019JGRE..124..155R
Moore, J. M., McKinnon, W. B., Cruikshank, D. P., Gladstone, G. R., Spencer, J. R., Stern, S. A., Weaver, H. A., Singer, K. N., Showalter, M. R., Grundy, W. M., Beyer, R. A., White, O. L., Binzel, R. P., Buie, M. W., Buratti, B. J., Cheng, A. F., Howett, C., Olkin, C. B., Parker, A. H., Porter, S. B., Schenk, P. M., Throop, H. B., Verbiscer, A. J., Young, L. A., Benecchi, S. D., Bray, V. J., Chavez, C. L., Dhingra, R. D., Howard, A. D., Lauer, T. R., Lisse, C. M., Robbins, S. J., Runyon, K. D., Umurhan, O. M. Great Expectations: Plans and Predictions for New Horizons Encounter With Kuiper Belt Object 2014 MU69 ("Ultima Thule") 2018GeoRL..45.8111M
Robbins, S. J., Watters, W. A., Chappelow, J. E., Bray, V. J., Daubar, I. J., Craddock, R. A., Beyer, R. A., Landis, M., Ostrach, L. R., Tornabene, L., Riggs, J. D., Weaver, B. P. Measuring impact crater depth throughout the solar system 2018M&PS...53..583R
Bray, V. J., Atwood-Stone, C., Neish, C. D., Artemieva, N. A., McEwen, A. S., McElwaine, J. N. Lobate impact melt flows within the extended ejecta blanket of Pierazzo crater 2018Icar..301...26B
Robbins, S. J., Runyon, K., Singer, K. N., Bray, V. J., Beyer, R. A., Schenk, P., McKinnon, W. B., Grundy, W. M., Nimmo, F., Moore, J. M., Spencer, J. R., White, O. L., Binzel, R. P., Buie, M. W., Buratti, B. J., Cheng, A. F., Linscott, I. R., Reitsema, H. J., Reuter, D. C., Showalter, M. R., Tyler, G. L., Young, L. A., Olkin, C. B., Ennico, K. S., Weaver, H. A., Stern, S. A. Investigation of Charon's Craters With Abrupt Terminus Ejecta, Comparisons With Other Icy Bodies, and Formation Implications 2018JGRE..123...20R
White, O. L., Schenk, P. M., Bellagamba, A. W., Grimm, A. M., Dombard, A. J., Bray, V. J. Impact crater relaxation on Dione and Tethys and relation to past heat flow 2017Icar..288...37W
Robbins, S. J., Singer, K. N., Bray, V. J., Schenk, P., Lauer, T. R., Weaver, H. A., Runyon, K., McKinnon, W. B., Beyer, R. A., Porter, S., White, O. L., Hofgartner, J. D., Zangari, A. M., Moore, J. M., Young, L. A., Spencer, J. R., Binzel, R. P., Buie, M. W., Buratti, B. J., Cheng, A. F., Grundy, W. M., Linscott, I. R., Reitsema, H. J., Reuter, D. C., Showalter, M. R., Tyler, G. L., Olkin, C. B., Ennico, K. S., Stern, S. A., New Horizons Lorri, M. I. T. Craters of the Pluto-Charon system 2017Icar..287..187R
| Available files | Size | Created |
| --- | --- | --- |
| Bray.pdf | 339.61 KB | September 8, 2022 |
Last updated on December 17, 2021