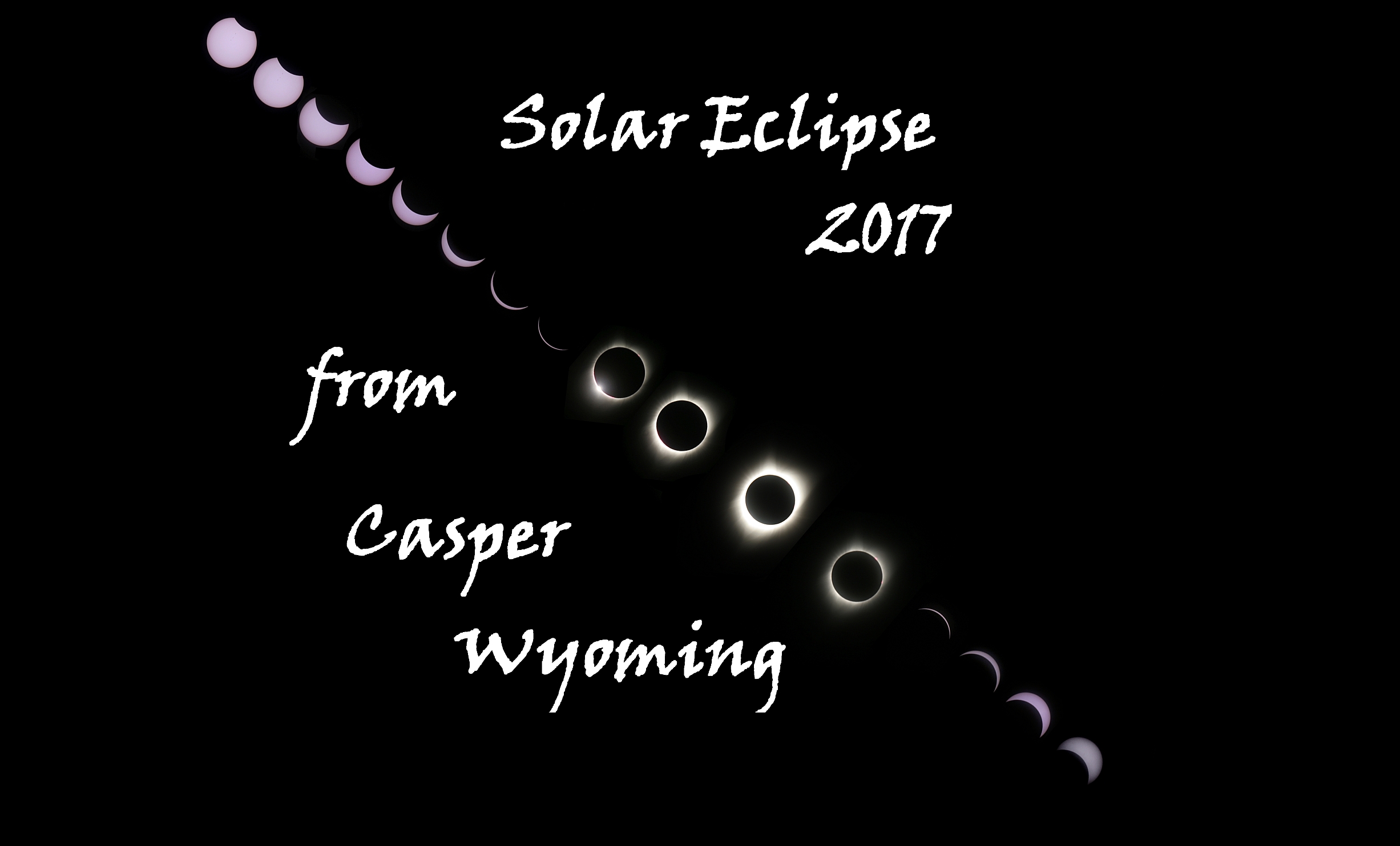 Richard E. & Dolores H. Hill
JIM LOUDON OBSERVATORY
Tucson, AZ



OVERVIEW:


We were behind the Parkway Plaza Hotel in Casper, WY, where the Astro. League held their meeting (our room was Lat/Long 42.855895° N,106.327514° W). We had three cameras: one on an ETX90, one 500mm lens and one shooting flash spectrum. We got a good sequence with the 500mm lens in scattered light cirrus, of ingress partial phases and totality, and a couple images with the ETX in increasing cirrus. Egress partial phases were truncated by the clouds as evidenced by the non-symmetrical header image here. We also had a flash spectrum camera using a transmission grating in front of a camera lens.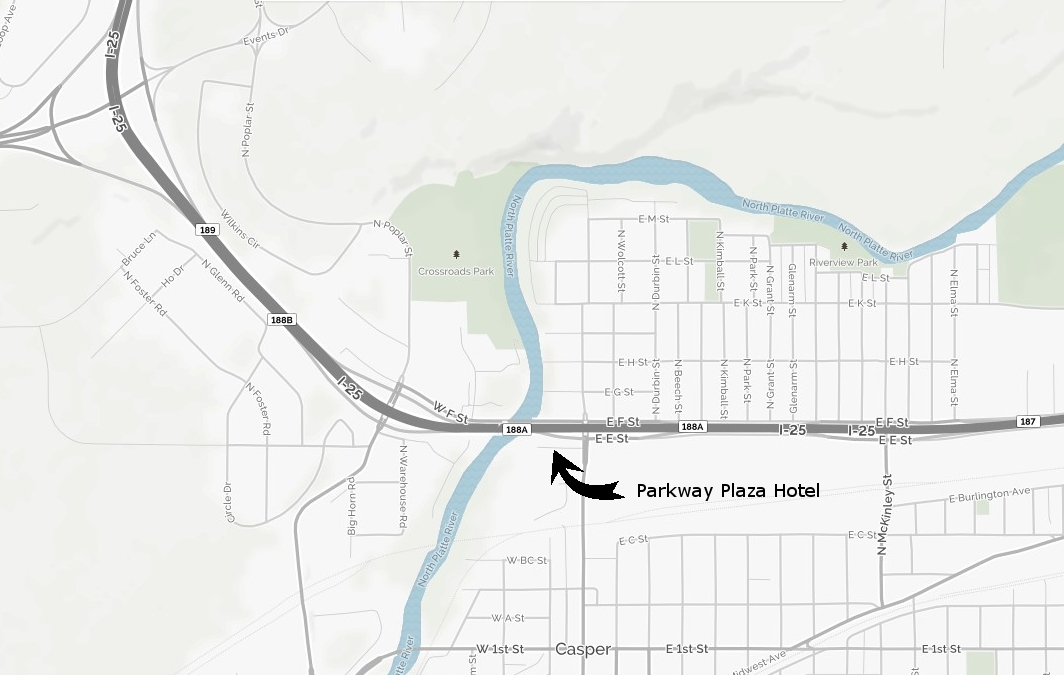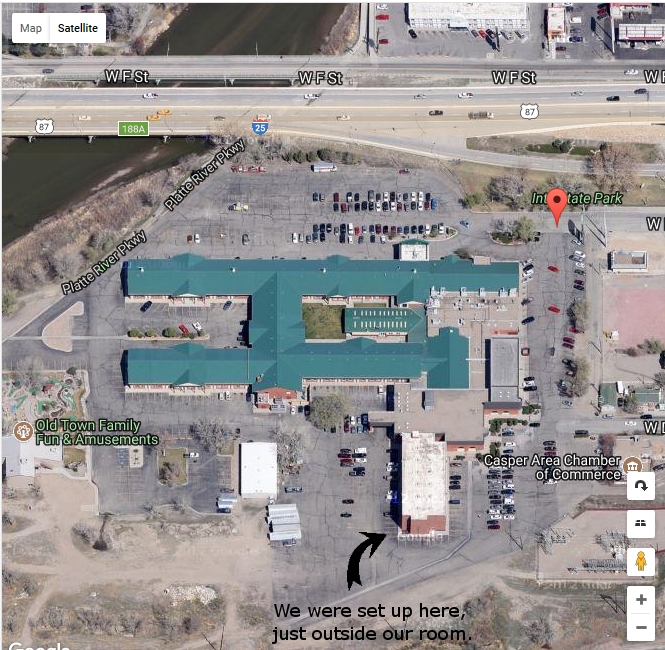 SUN., AUG. 20

This was the dry-run day. Up at 9am and setting up equipment. We went through enough of a dry run, through the time of totality, to ensure that we will get our data weather permitting. A lot of people were also going through dry runs and some came over to look through the equipment. With us were Larry Korzel and his sister Katharine Mazzotta with whom we spent most of our time in Casper. There were no show stoppers, everything seemed to work well and there were even two extra cameras available to take wide field video during totality. We had done our homework.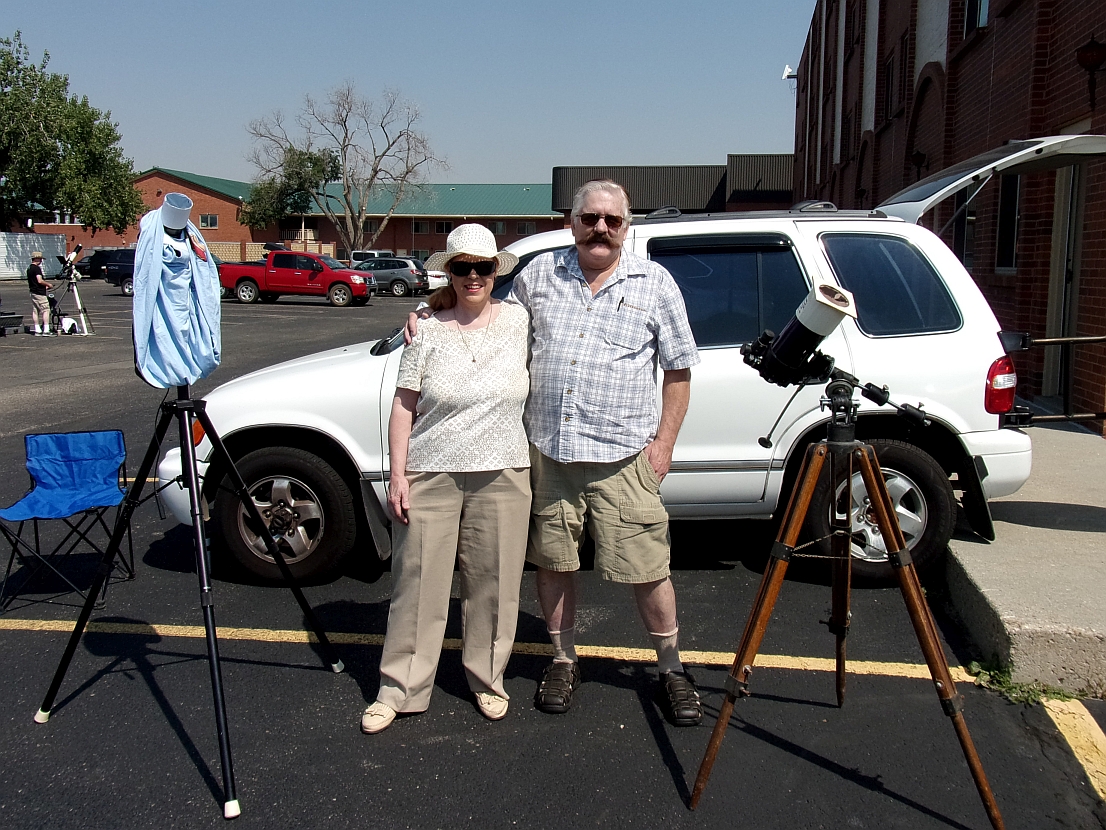 People that wanted to see what was going on....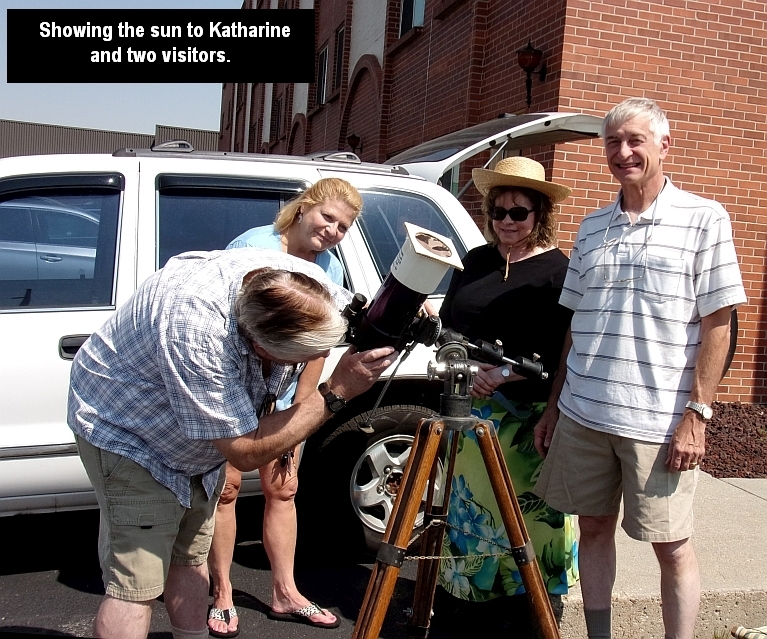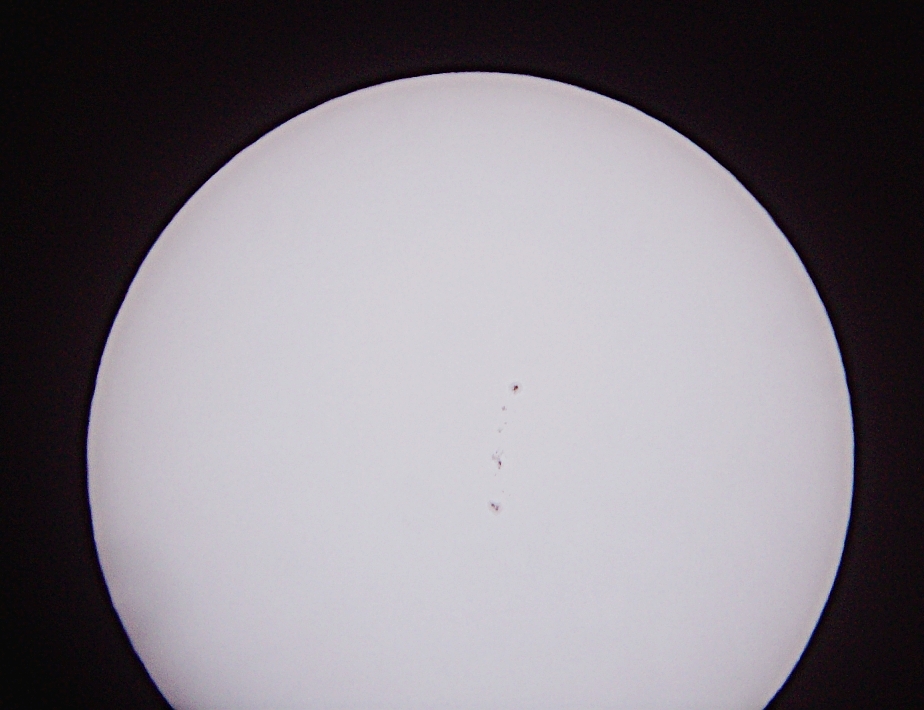 Everyone was stoked and ready. During the League group photo I ran into Maynard Pittendreigh whom I had known for seveal years through the FaceBook Questar page and Joe Giannanoto, who lives about a mile from us and is another Questar owner.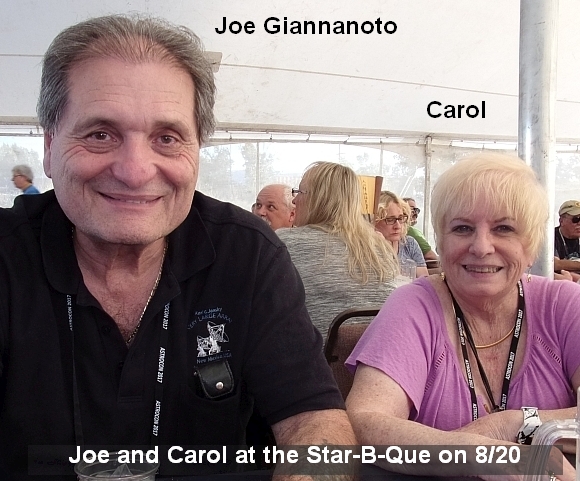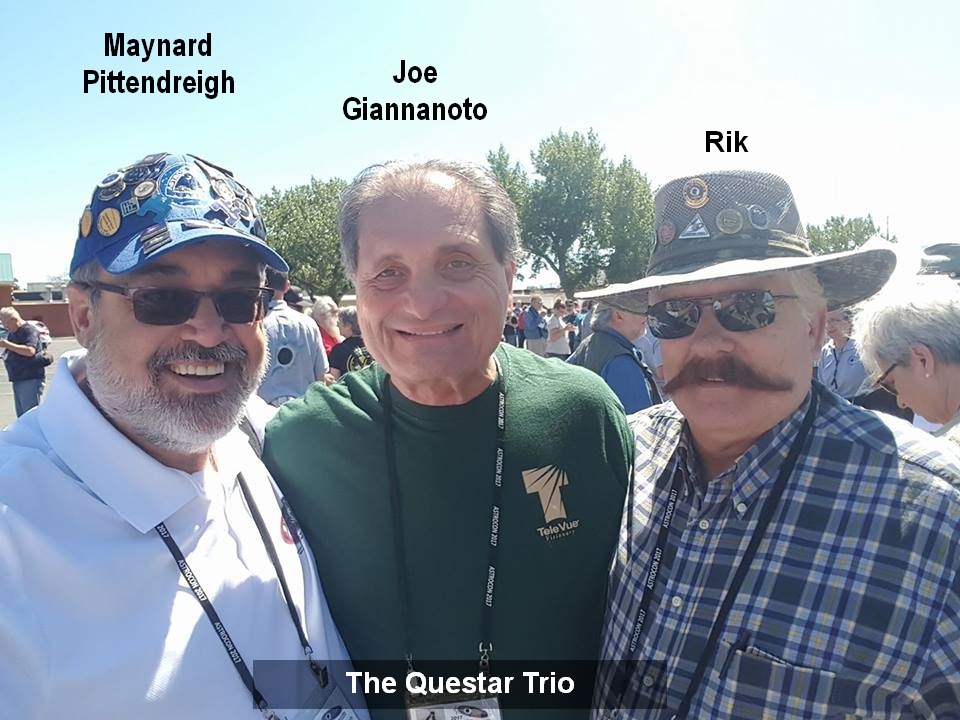 MON., AUG. 21 - ECLIPSE DAY!-

We were up at 8:30am getting things set up. There were very few cars in back of the Parkway where we were and the prospects for good observing were excellent except for some scattered cirrus to the west. We set up our equipment as we had practiced. Joe Giannanoto and his friend, Carol, Berton Stevens who we met in Chicago in 1974, and his wife, Janet now living in Las Cruces. Also with as were Rik's brother Casper (yes, Casper in Casper) and his sons Royce and Cory. Everyone was forewarned that starting about two minutes before totality through totality, we would be too busy for conversation.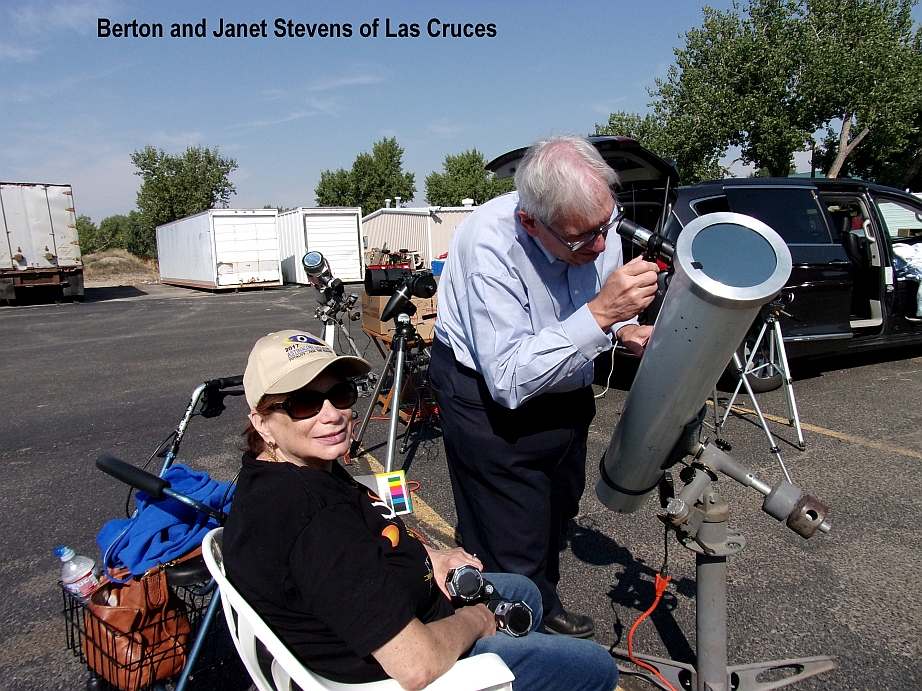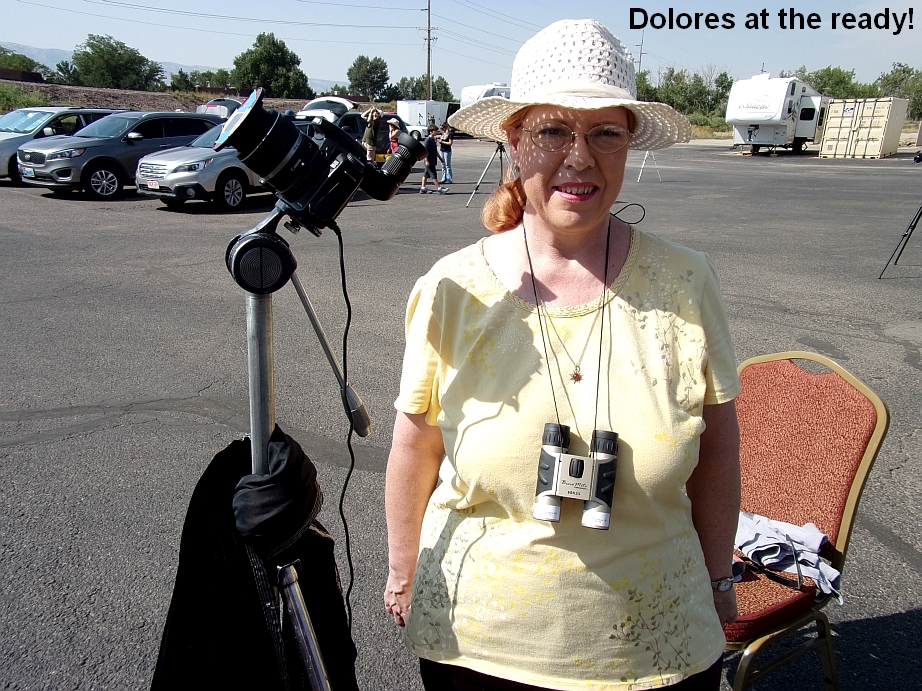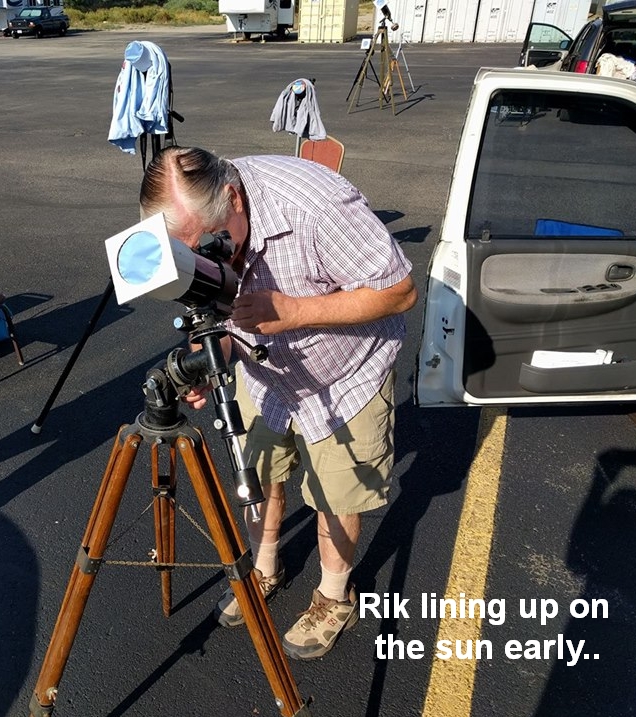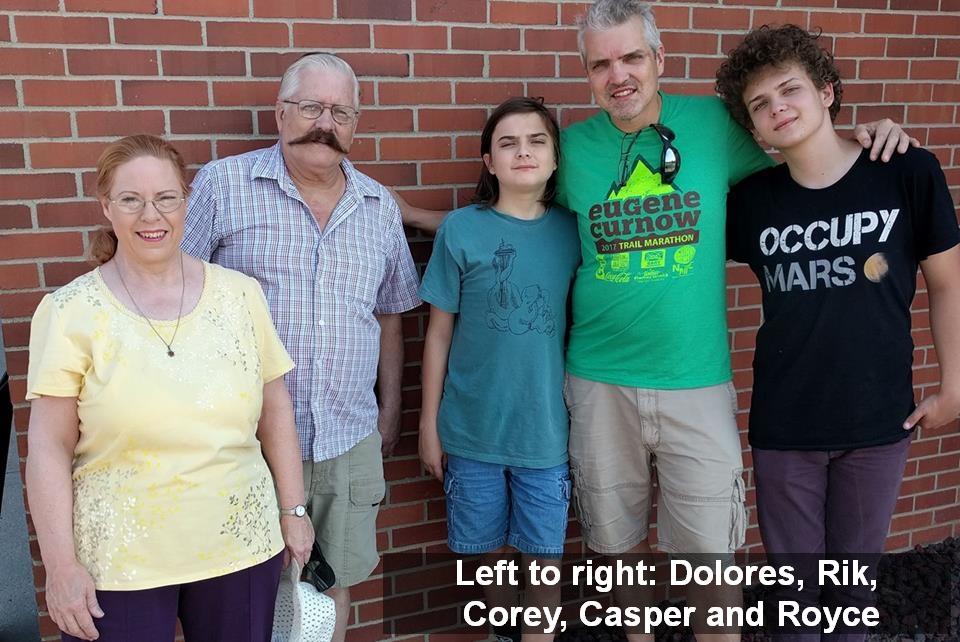 As we were setting up we were treated to an unexpected sight. First a flight of pelicans....yes, PELICANs flew over, circling and making several passes which allowed us to make a positive identification. They were shortly followed by at least one flight geese that made several passes honking away. It was pointed out that this was a sign of good fortune...but we still worried about the cirrus seen as a backdrop to the geese.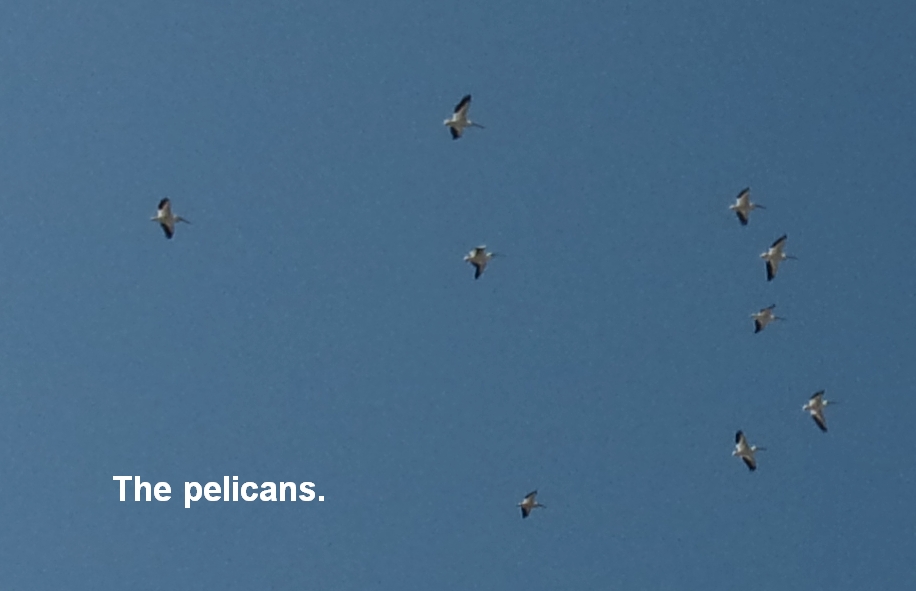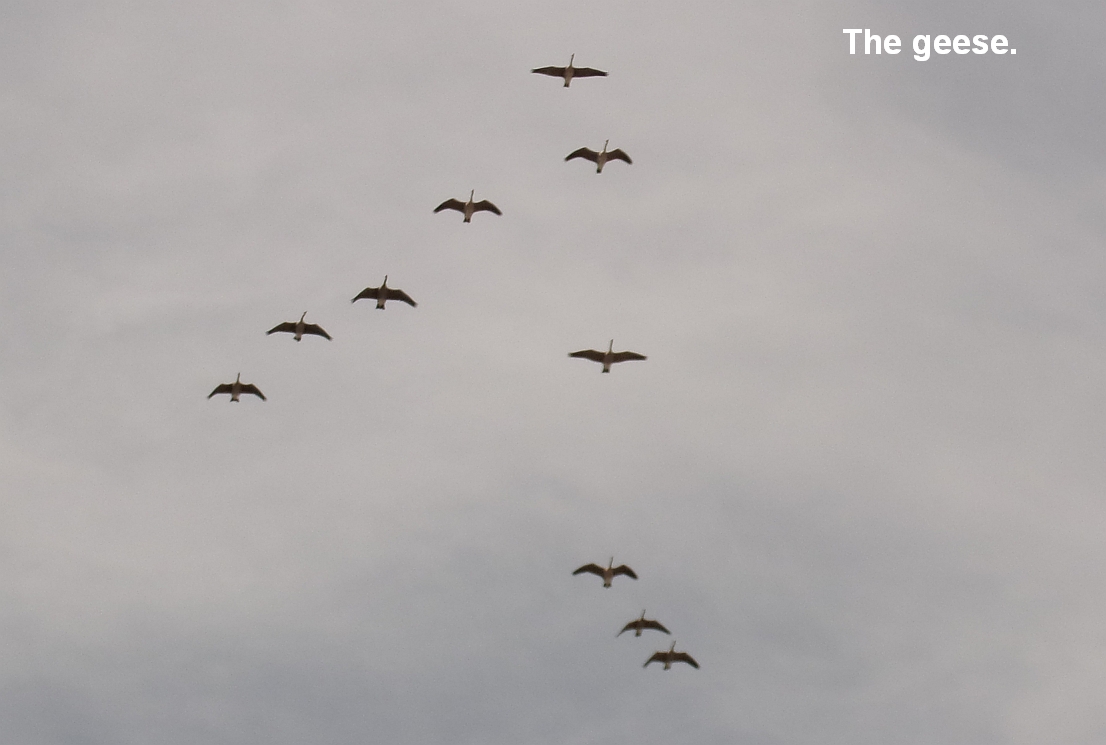 We watched the partial phases mosly through the ETX90 as the moon crossed the sunspots on the disk. Numerous images of this were captured with the 500mm as seen in the header image to this page. Everyone was enjoying the view in the ETX90. Dolores' flash spectrum setup was ready and waiting. As the eclipse got deeper a heavy patch of cirrus was moving in from the west. We were getting very concerned.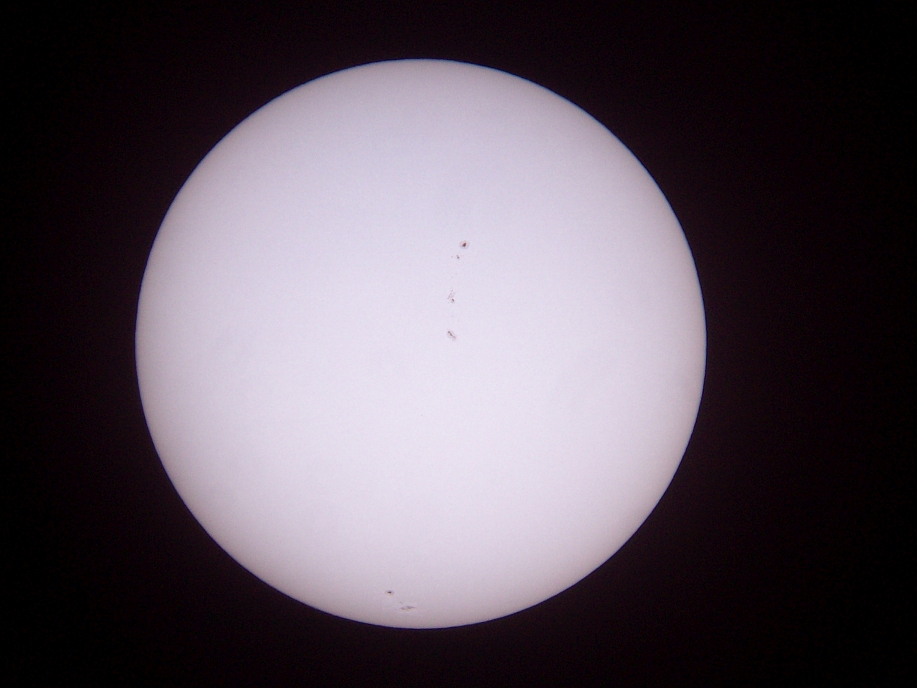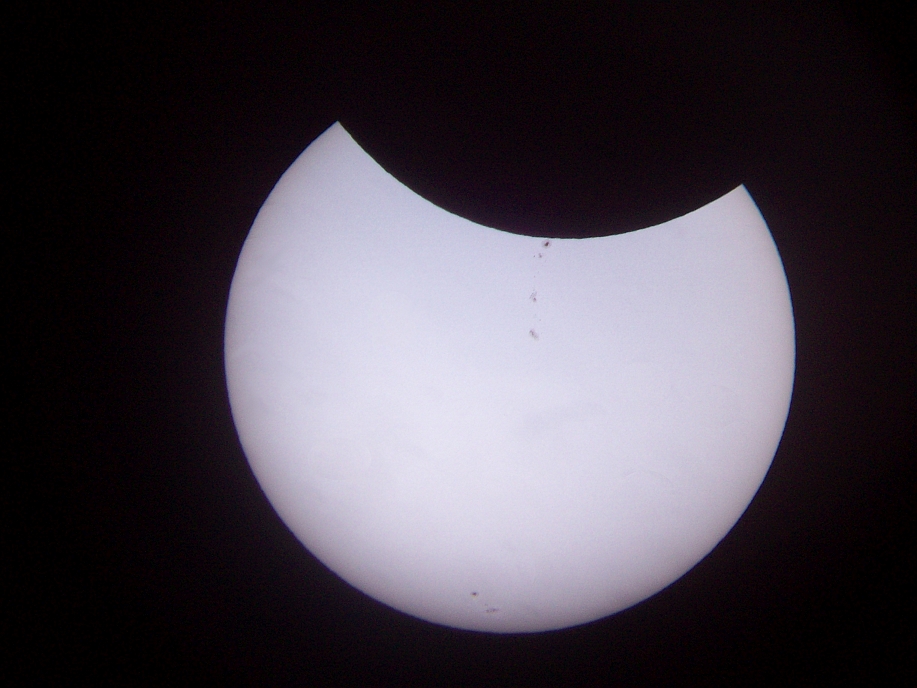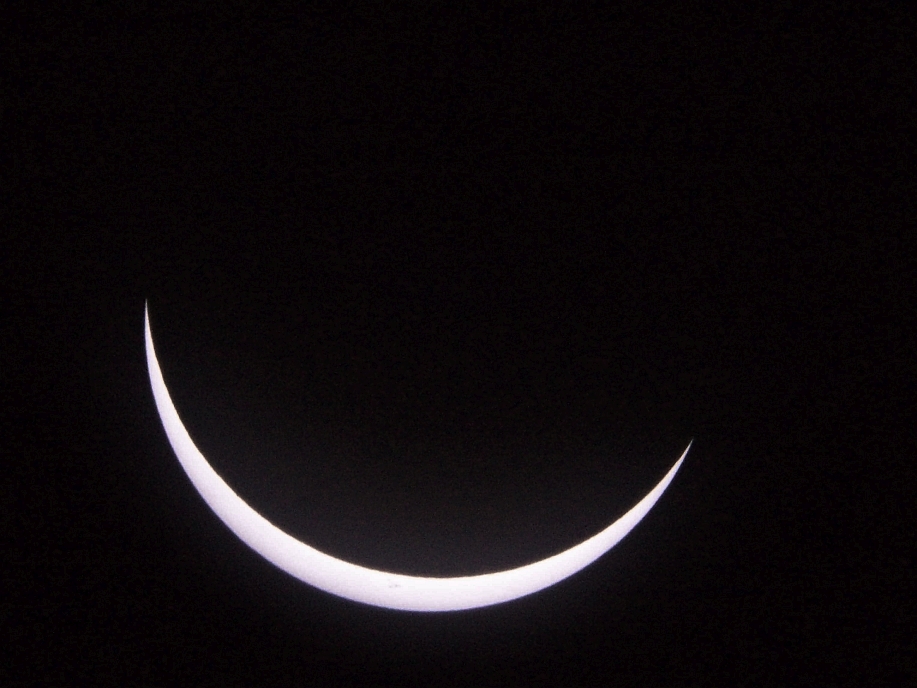 We were looking for something that would act as a natural pinhole projection of the partial phases. Dolores hit upon a great device, the plastic lawn chair with a molded fake wicker back that made numerous holes. It worked perfectly!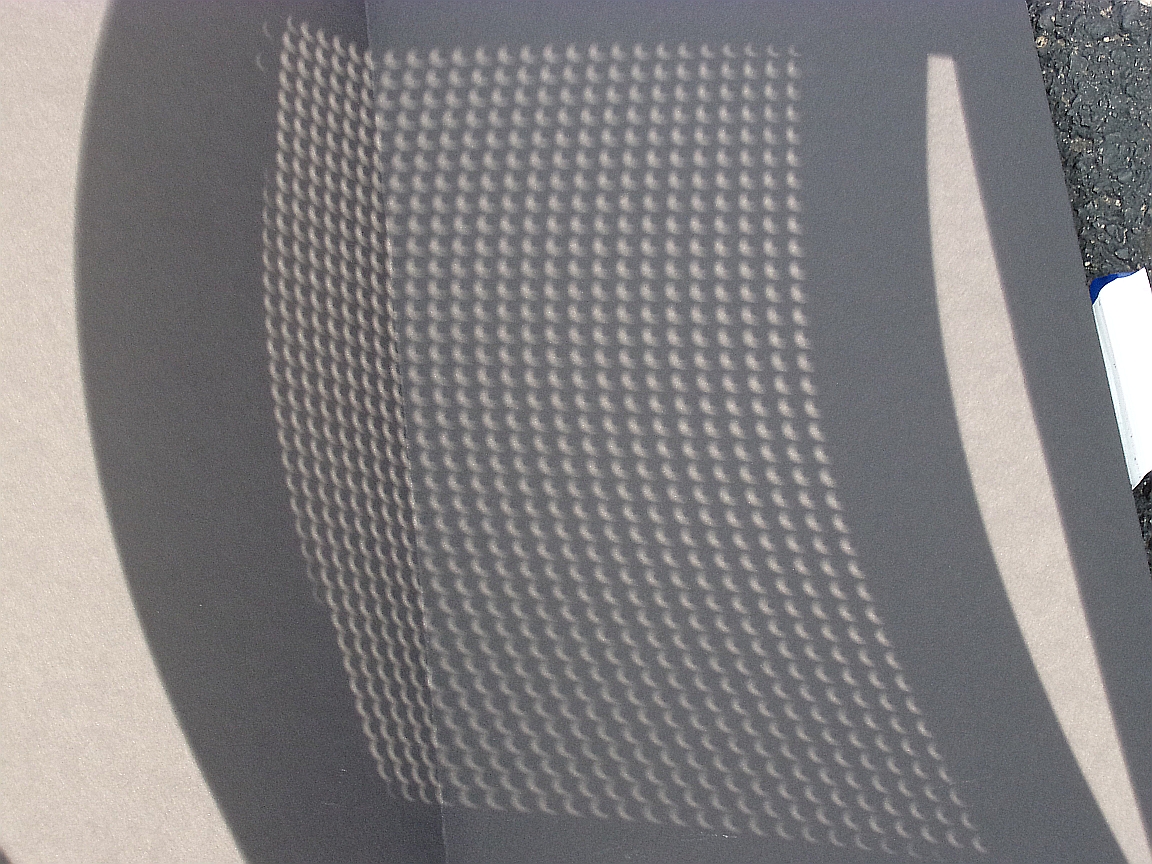 We also looked for shadow bands but did not see them on the sheet we had spread on the ground.
Then the moment arrived and Dolores and I were snapping away with our cameras. I set up one camera to just do video at totality to catch all the comments and the ambience. It shows what we were up against with the cirrus but also the wonderful reactions of everyone!

We got a full sequence of the 500mm exposures through totality but the cirrus ruined any chace of catching the outer corona. Dolores was not sure she saw the flash spectrum so that would have to wait for processing. When the totality was over, heavier clouds began moving in. Partial phases were taken until the clouds made it impossible about half an hour after totality ended.








In the ETX the prominences and innermost corona were nicely seen.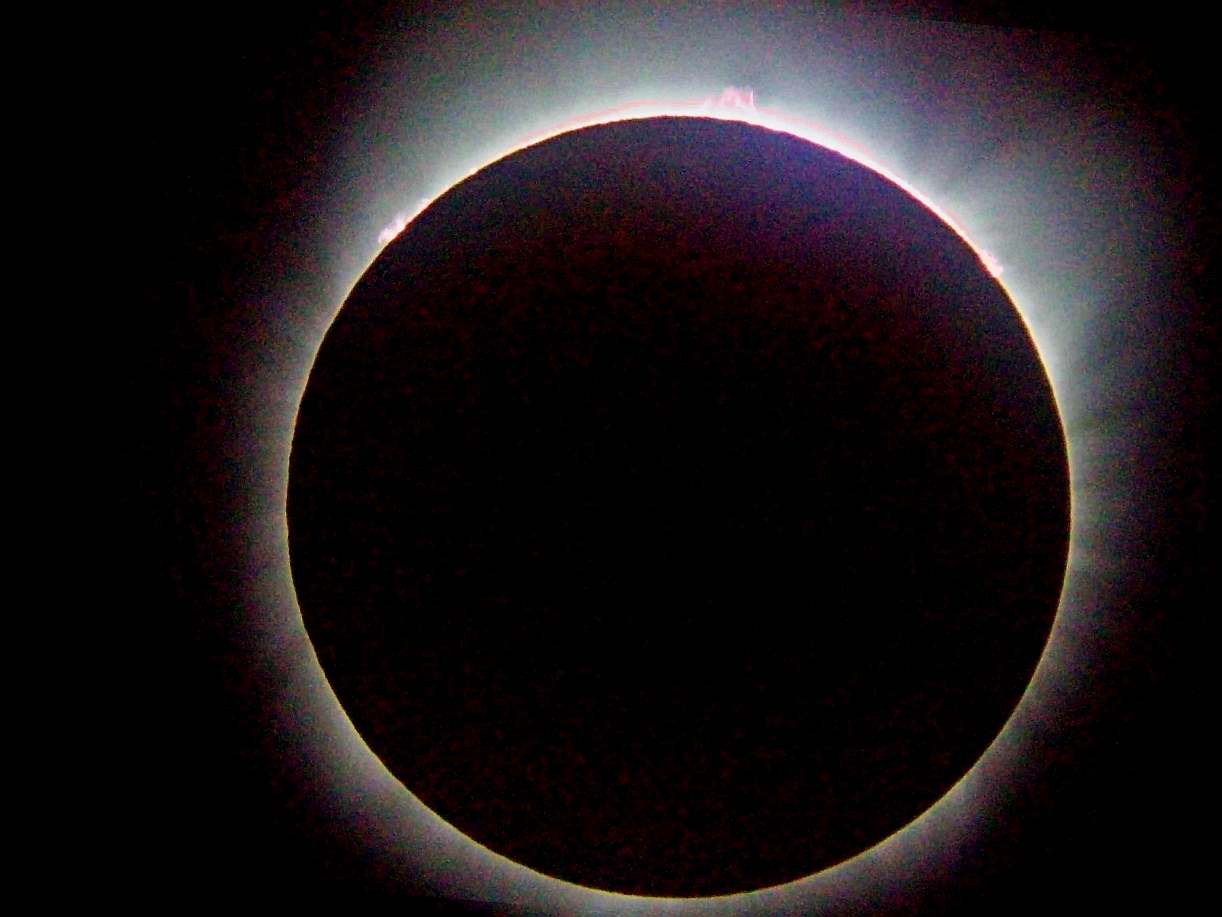 With the clouds ending the partial phases early, we cleaned up equipment and said goodbye to Casper and the boys as they had to head out immediately for Minneapolis, making at least Nebraska by nightfall. Joe and Carol stayed and after everything was stowed we went for lunch in the hotel restaurant where we basked in the glory of a successfully observed eclipse.

After lunch we went back to our room to download images to the computer, making backups and starting to look at what we had gotten. While we confirmed that we had a good 500mm sequence, all flash spectrum images showed just continuous spectra! No emission was captured though the camera was shooting the whole time from diamond ring to full totality!!

After we got home using the instuctions by several more experienced eclipse chasers on how to bring out the corona in the images, the image below was teased out of our data. The cirrus made outer corona impossible but 5 images of the inner portions of corona and hours of processing made it possible to make a good image though it still showed effects of cirrus mostly in loss of sharpness. We are pleased with the trip and the results.