Saturday, September 26, 1998 • Hawthorne House, Tucson, AZ, USA
It was twenty years ago today...
1998 marks the 20th anniversary of Bratfest; it's the Platinum Bratfest! Join us on Saturday, September 26 at Hawthorne House, starting at 6 pm and lasting until no one's left standing!
We provide: Everything! A (nearly) unlimited supply of bratwurst, corn-on-the-cob, cheesecake, sauerkraut, cheese, and—of course—lots of beers and sodas. Even better, this year we've hired a real, live, honest-to-brat 13-piece oompah band!
You provide: Yourself, family, and friends
We ask that you consider a modest donation ($5 per person) towards the rather large expenses. Better still, consider becoming a Bratfest Sponsor by donating $20 or more per person or family to support our worthy cause—sponsors will be entered in a drawing for a special limited edition 20th anniversary mug! (Checks should be made payable to Bratfest.)
Don't forget to reserve your limited edition commemorative t-shirt! See a Bratfest Representative for details.
Map to Hawthorne House
Here's an inconvenient map showing how to get to Hawthorne House. If you want a more convenient version, download the map to Hawthorne House (PDF).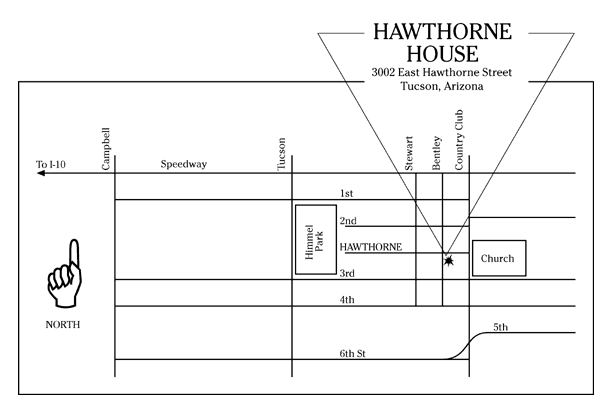 The Bratfest XX T-Shirt
This year's full-color, surprisingly outrageous t-shirt design is shown below in black and white. The actual artwork as it appears on the shirts will be much more colorful. T-shirts are available in white, with a few in ash, natural, daffodil, and pink. Sizes are L and XL. (We have a pretty limited supply of smaller sizes; see a Bratfest Representative for details on size and color availability.)
T-shirts will cost $15 this year.
On the back...
The back design depicts characters from Bratfests of the past: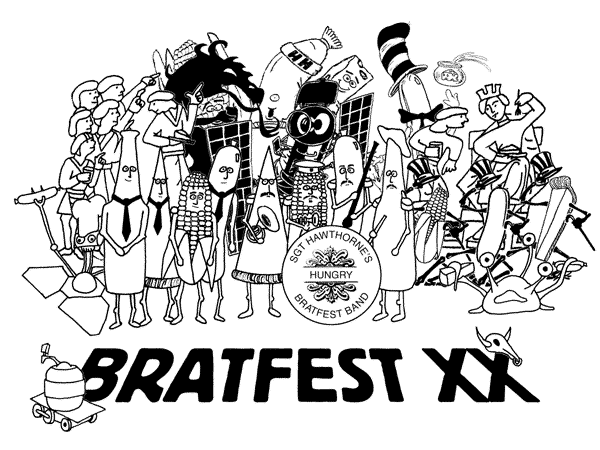 On the front...
The front of the shirt includes a small, pocket-sized logo depicting Sgt. Hawthorne's Hungry Bratfest Band: