Saturday, October 18, 1997
6 p.m.-- ?
Hawthorne House, Tucson, Arizona
Bratfest is a long and honored tradition of classic partying. The graduate students at LPL have been providing Southern Arizona with "a taste of the old country" for over 17 years!
We Provide Everything: unlimited supplies of bratwurst, corn-on-the-cob, cheesecake, sauerkraut, cheese, lots of beers and sodas, and of course, dance music so you can shake it all night long.
You Provide: yourself, family, and friends.
We ask that you consider a modest ($5) donation toward the large (>$6000!) expenses. 
Better still: Please become a Bratfest Sponsor by donating $20 per person or family to support our worthy cause. Donations and sponsorships are welcome pre-fest or at the door.
Bratfest 19 Commemorative T-Shirts will also be available for $15 each, both pre-fest and at the door. The T-shirts are available in stonewashed blue and dark plum, in sizes adult L and XL (with limited supplies of adult M and XXL).
The front design consists of a pocket-sized logo. The back has a larger scene, depicting the first interplanetary Bratfest under full swing.
On the front...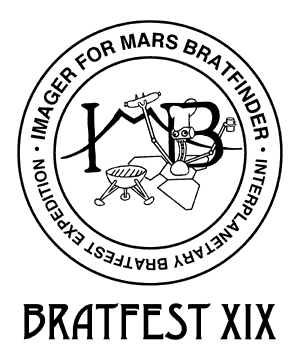 On the back...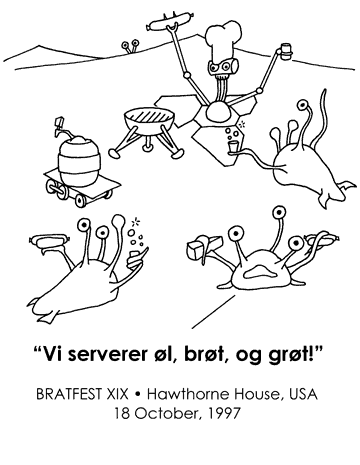 Just what are those guys surrounding the Bratfinder? Why, they're chybites, of course!
Your helpful, happy bratfest fundraising crew will be happy to take T-shirt orders and of course to ask for donations/sponsorships. Please make checks out to "Bratfest", and send them to 3002 E. Hawthorne St., Tucson, AZ 85716.
---
Twas the night before Bratfest
(a la Bill Bottke) - by Jen Grier
Twas the night before Bratfest and all through HH
everyone was stirring, making cheesecakes.
The students were nestled by the keg, all snug,
trying to keep from passing out on the rug.
And though I was weary, and no beer was left,
I'd just settled in for the next cheesecake shift.
When out in the yard there arose such a clatter
I thought it must be the cornasaurus had shattered.
Then away to the yard I stumbled and tripped
thinking this Bratfest I'd finally flipped;
for what to my wondering eyes should appear,
than a beat up old car filled with all kinds of beer.
With a little old driver so relaxed and sublime
I knew in a moment it must be Merline!
With a car full of gifts, and no two were the same,
he passed them around and called them by name:
"Miller, and Pabst, and Moosehead and Coors,
Bass, and Old Style and Bud" and much more!
"Oh geeze, ya know, stack 'em back in the hall,
now drink away, drink away, drink away all!"
He was dressed all in flannel and denim, ya know,
'cause that's Old Country gear when it snows.
A bundle, so heavy, he held on his back,
he said "Oh geeze, help me, my spine's gonna crack!"
We lifted the pack, and then Merline cursed,
he'd been hit in the foot with a box of Bratwurst!
We joyfully emptied the sack of it's treasures, 
the rolls and the corn were piled without measure.
We gave him some oysters and pickles and cheese.
"Oh geeze, that's proper"; he clearly was pleased.
He sank on the couch with an Old Style in hand,
as we sorted the horseradish and the soda cans.
We stacked up the beans, potato salad and 'kraut,
just as the last batch of cheesecakes came out.
And we heard him exclaim as we slept on the floor,
"Oh geeze, ya know, a proper 'Fest is in store!"
Meet the Chybites!
Yes, the Chybites. Now it's time to meet the Chybites in attendance at the First Interplanetary Bratfest, on the Tharsis Uprise, Mars.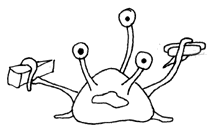 "Chris"
Blood Type: AB Green
"Chris" (no relation) is this leader of the Tharsis Chybites. "Chris" is not this guy's actual name, but it is a reasonable translation. It's a better translation than "Follower of Hops and Barley," which is what its Chybite name literally means.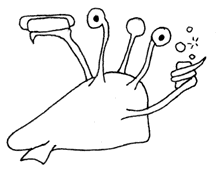 "Gunther"
Blood Type: A Green Positive
Meet "Gunther." Gunther is deceptively polite, but he's a master of the ancient Martian martial arts style "Bier Kunst." Don't mess with Gunther, or he'll introduce you to the dreaded "Flying, Spinning, Wheezing Butterfly Dropkick." You don't want that.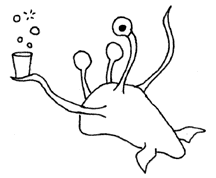 "Lloyd"
Blood Type: CHOOH
"Lloyd" is a troublemaker, but he means well. It was Lloyd who first confused the issue on what Mars really needs back in the 50s. He meant to say, "Mars needs beer." Due to his unfamiliarity with the language, it came out as, "Mars needs women." Chris was pissed off. Gunther, the wisest of the Tharsis Chybites, pointed out to Chris that "It is better to be pissed off than to be pissed on," and promptly demonstrated using an intoxicated Lloyd. 
The Evolution of the Chybites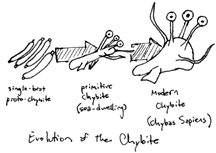 Where did the Chybites come from? Evidence from the Mars meteorite HH96001 provides a telling clue. Chybites are actually minimally evolved from the primitive single-brat organisms that swam in the early Martian ocean, as this artist's sketch clearly shows. 
Photos
Vi serverer ol, brot og grot! Be There. Aloha.