Saturday, September 4, 1999; Hawthorne House, Tucson, AZ, USA
It was a great fest and Rik Hill has the pictures to prove it.
BRATFEST will be happening sooner than you think! Cancel your plans, postpone your funeral, delay your Barmitzvah! Better yet, bring them with you to Bratfest! Join us as Bratfest comes of age on Saturday, September 4 at Hawthorne House, starting at 6 pm and lasting until no one's left standing!
We provide: Everything! A (nearly) unlimited supply of bratwurst, corn-on-the-cob, cheesecake, sauerkraut, cheese, and of course, lots of beers and sodas. That's right, the 13-piece oompah band is back!
You provide: Yourself, family, and friends
We ask that you consider a modest donation ($5 per person) towards the rather large expenses. Better still, consider becoming a Bratfest Sponsor by donating $20 or more per person or family to support our worthy cause. (Checks should be made payable to Bratfest, and can be sent directly to 3002 E. Hawthorne, Tucson, AZ 85716)
Don't forget to reserve your limited edition commemorative t-shirt! See a Bratfest Representative for details.

This is the preliminary design for the front of the t-shirt. Watch this page for the complete graphics once we get the ZIP disk back from the t-shirt printers.
Map to Hawthorne House
Here's an inconvenient map showing how to get to Hawthorne House. If you want a more convenient PDF version, click here.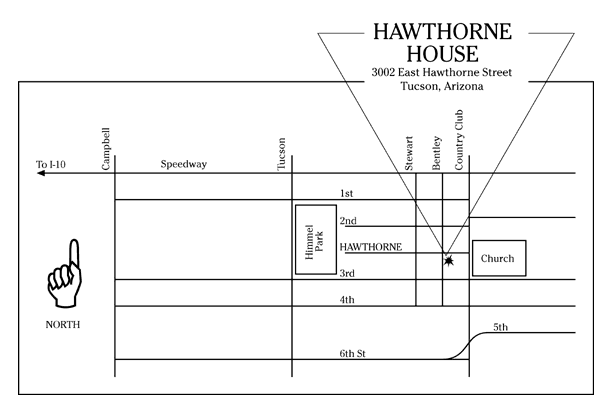 Pictures
| | |
| --- | --- |
| | At Cheesecakes, the night before Bratfest, Rachel, Ingrid, Gareth, Dave, pete, Fred, Joe, and Barb enjoy Science Diet. |
| | Meanwhile, Ross bakes cheesecakes in the kitchen. |
| | His wife-to-be, Rachel, gets over-excited. So does the lucky recipient, Andy. |
| | Fred and Dave start the grills |
| | Dave with his commemerative beer stein from Bratfest 20. |
| | One colour of shirt was very popular this year... |
| | Flames from the cornosaurus. Andy is unperturbed. |
| | The Shriners Oompah Band came back again this year. |
Vi serverer ol, brot og grot! Be There. Aloha.