Saturday, September 29, 2001; Hawthorne House, Tucson, AZ, USA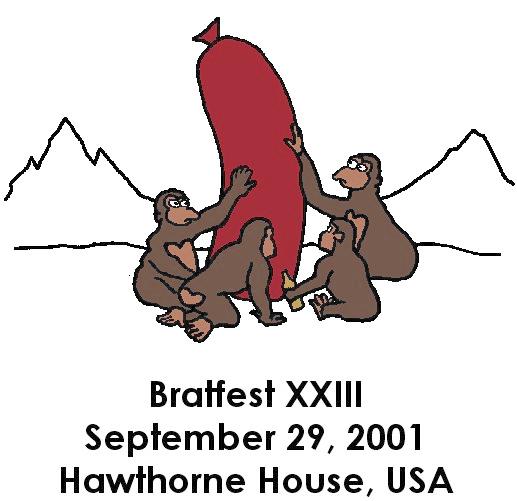 Bratfest 2001: A Space Bratessy is almost upon us!
We provide: Everything! A (nearly) unlimited supply of bratwurst, corn-on-the-cob, cheesecake, sauerkraut, cheese, and of course, lots of beers and sodas.
You provide: Yourself, family, and friends
We ask that you consider a modest donation ($5 per person) towards the rather large expenses. Better still, consider becoming a Bratfest Sponsor by donating $20 or more per person or family to support our worthy cause. (Checks should be made payable to Bratfest, and can be sent directly to 3002 E. Hawthorne, Tucson, AZ 85716)
Don't forget to reserve your limited edition commemorative t-shirt! See a Bratfest Representative for details.

On the front of the t-shirt will be this design

and on the back will be this:
Map to Hawthorne House
Here's an inconvenient map showing how to get to Hawthorne House. If you want a more convenient PDF version, click here.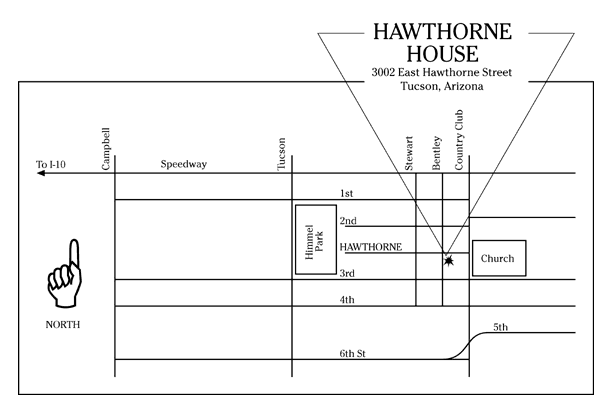 Scenes from Bratfest XXIII caught on (digital) film
| | |
| --- | --- |
| | The weekend before the Fest, Paul, Joe, and Dave work on a new picnic table, Joe's parting gift to Hawthorne House. |
| | New on the left, old on the right. Jeep for scale. |
| | Jani supervising her minions on Cheesecakes Night - Adina, Katie, Ingrid, Jonathan, and Curtis. |
| | Many kegs of beer need many bags of ice to keep them cool. Fred stacks them high on the afternoon of the Fest. |
| | Laz and Terry slice the buns. |
| | Marcialis watches his cornosaurus ignite. |
| | Abby, Nick, Chris, and Andy, with Adina and Matt standing. |
| | Katie getting to grips with the corn as Ingrid looks away. |
| | Betty and Carl. |
| | Andy lurking, Ingrid posing. |
| | Dave and Jonathan tackling minor technical problems. |
| | Jonathan and Jason at the grills, with Merline in the background. Doesn't the monolith look rather phallic? |
| | The fest in full swing. |
| | Joe getting attention with his chicken pants. |
| | Jonathan, Fred, and Paul. |
| | Rachel with the yummy cheesecakes. |
Vi serverer ol, brot og grot! Be There. Aloha.