White Sands and Black Caverns: Southern New Mexico
April 10-13, 1997
---
This field trip offered a little of many things--both geologically and weather-wise. New Mexico has had a complex geologic history, ranging from being underwater to having volcanoes dot its landscape. The Guadalupe Reef carbonate complex, near the Texas-NM border, is home to a huge system of caverns. We toured a lesser-known cave called Slaughter Canyon Cave with only ourselves and a park ranger. We also took a whirlwind tour through the famous Carlsbad Caverns Big Room. We examined the Carrizozo lava flow, which is the longest well-preserved flow on earth--over 25 km long! We studied dunes and dune formation at White Sands. We had a geology professor from UT El Paso guide us through a maar volcanic field on the NM-Mexico border, where upwelling lava carried mantle nodules to the surface. Finally, we explored the Chiricahuas in Arizona, looking at welded tuffs and hoodoo formation. Weather was just as varied--from high winds near Carlsbad to snow in Carrizozo to a perfect night in Pancho Villa State Park.
Thanks to David Trilling, Joe Spitale, Eric Wegryn, Cynthia Phillips, and Barb Cohen for pictures!
Day 1: Tucson-Carlsbad, including the Guadalupe Mountains
| | |
| --- | --- |
| | |
| Top left: Roadcut! Banded limestone deposits show paleoclimate and some really neat centimeter-scale folding. Top right: Barb licks the salt flats near Guadalupe Peak to determine mineralogy. Right: Andy flies his tent in winds that knocked down the wall of a mall in El Paso. | |
| | | |
| --- | --- | --- |
| | We camped on National Park land in the Guadalupes, near a tiny, winding cave passage. A few people successfully navigated the cave, including (left) Nancy, Pete, and Andy (with Eric behind the camera). Left, what a good flash can do for your cave pictures. | |
Day 2: Slaughter Canyon Cave, Carlsbad Caverns, Carizozo lava flow
| | |
| --- | --- |
| Zibi, Andy, Jen, and Barb show off their camping morning hair. | |
| | |
| --- | --- |
| | Slaughter Canyon Cave is not open to the general public, but ranger-guided tours are available. What we didn't know is that the cave entrance is a half-mile from the parking lot....straight up a mountain (or so it seemed). Just as you think you should be there, there's a sign saying "Half Way." But the trail winding through the Guadalupe Mountains is quite beautiful. |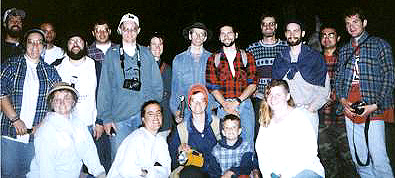 The group inside Slaughter Canyon Cave.
Although bats have not inhabited Slaughter Canyon Cave for 17,000 years, the thick layers of guano (bad droppings and remains) indicate that a large colony lived there for thousands of years. Barbara (5' tall) for scale.
The Guadalupe caves are mature and highly decorated (lots of flowstone, stalagmites, stalctites, etc.). Inside Slaughter Canyon Cave, we saw almost every kind of formation! At right, Alfred checks out a stalagmite.
Right, Kevin slides doen a wet incline. Below, Zibi and our ranger leave the cave entrance.
| | |
| --- | --- |
| | Inside the Big Room at Carlsbad Caverns. The Big Room is the 9th-largest single chamber in the world (by surface area). |
We thought the white snow against the black lava was a stunning study in contrasts. Below: Will, Pete, Vladimir and Joe stand on the edge of a top-layer lava crack. Right: the ropy pahoehoe texture of the flow, with Laszlo on top.
While the snow on the lava flow was pretty, snow at the campsite was just plain cold.
< /td>
Day 3: White Sands, Potrillo volcanic field
| | |
| --- | --- |
| After camping in the snow, we ran south for warmth. We had breakfast at White Sands National Monument where Ian showed us how to make out own kitchen volcanoes. Here we see the bright-yellow (sulfurous?) soap lava spill onto the gypsum sands and down into the sleeping village below. | |
Eileen explains dune morphology and crossbedding using only her hands.
Will and Ian show off stratigraphy in the maar volcanic deposits: (below) cross-bedding and (right) volcanic bomb and sag features.
Day 4: Chiricahuas
| | |
| --- | --- |
| Of course, no LPL field trip would be complete without a van problem, but this time it was minor. A small leak was sprung in the cooling system. Laszlo (right) diagnoses the problem and (below) tries all sorts of new coolants while the Zibi looks on and Will takes pictures of the ground. In the end, it was duct tape and twist-ties to the rescue--and the van was fine. | |
| | |
The ashflow tuffs of the Chiricahua Mountains weathered down vertical joints into strange and interesting formations called hoodoos (bottom left). Hoodoos (also common in Bryce Canyon Park) look delicate and balanced, but are actually rather stable formations because of the strength of the rock. At the newly installed traditional "rock whacking stop,"(bottom right) we all got to test the strength of the rocks (and ourselves) as well as work out some field-trip tension.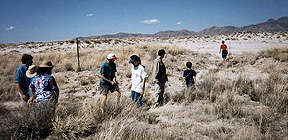 Coming out of the Chiricahuas, we passed through Willcox Playa and investigated the putative clay dunes there.