presents:

Geochemical and Microfossil Evidence for Early Bratfest on Mars
 
Well, Bratfest 18 has come and gone. It was great; it was greater than merely great. It was GREAT. Big thanks to everyone who braved the unusually cold and wet night to join our unique brand of revelry. We estimated an attendance of about 250 people! For everyone's viewing pleasure, there are LOTS of pictures online, as well as the complete poster presented at the DPS meeting. Happy browsing!
---
The original electronic invitation
(please don't send any more reservations!)
Saturday, October 26, 1996
6 PM (ad infinitum)
Bratfest is a long and honored tradition of classic partying. 
The graduate students at LPL have been providing Southern Arizona with "a taste of the old country" for over 17 years.
We Provide Everything: unlimited supplies of bratwurst, corn-on-the-cob, cheesecake, sauerkraut, cheese, lots of beers and sodas, and of course, dance music so you can shake it all night long.
You Provide: yourself, family, and friends.
We ask that you consider a modest ($5) donation toward the large (>$6000!) expenses. Better still: Please become a Bratfest Sponsor by donating $20 per person or family to support our worthy cause. Please make any checks out to Jennifer Grier, not to Bratfest.
Commemorative Bratfest T-Shirts will be available at the DPS meeting beforehand (look for the Bratfest poster display) and also at the party itself. This year's shirts are available in sandwashed brick or natural, with a design commemorating the recent discovery of evidence for early Bratfest on Mars. View the fabulous design here! T-shirts are only $15 ($12 for children's sizes)! We will have a limited number of children's large and adult XXL sizes, so please reserve these in advance.
As always, Bratfest will be held at Hawthorne House, conveniently located only 1.5 miles from the University, and about 5 miles from the Convention Center. Maps and carpool information will be available at the DPS meeting.
-------RSVP-----RSVP-----RSVP-----RSVP-----RSVP------
Please return an indication of interest to the Bratfest organizers as soon as possible, so that we can get a ballpark head count and buy enough to feed everyone!
Requested information:

		Name _____________________________________________

		Email address ____________________________________

		Total in my party ________________________________

		Reserve T-shirts (please give sizes) ______________

		Request dance song here ___________________________

Dance song requests!
| | |
| --- | --- |
| Hocus Pocus | Focus |
| Burning Down the House | Talking Heads |
| Rock Lobster | B-52's |
| Mirror in the Bathroom | English Beat |
| Suddenly | Bogmen |
| I'm Just A Sweet Transvestite | Rocky Horror Picture Show |
| Come On Eileen | Dexy's Midnight Runners |
| Jungle Love | Steve Miller Band |
| In the Mood | Benny Goodman |
| Celebrate | Kool and the Gang |
| Every Little Thing She Does Is Magic | The Police |
| Funkytown | Lipps Inc. |
| Nessun Dorma |   |
| Dancing With Myself | Billy Idol |
| Ring of Fire | Wall of Voodoo |
| Freedom | D. J. Bobo |
| Satisfaction | Rolling Stones |
| Naked and Famous | The Presidents of the USA |
| O Fortuna (remix) | Apotheosis |
| L. A. Woman | The Doors |
| 3 AM Eternal | KLF |
| You Spin Me Round (Like a Record) | Dead or Alive |
| Cotton Eye Joe | Rednex |
| German Beer-drinking music |   |
| something | La Bouche |
| Dead Man's Party | Oingo Boingo |
| Bust a Move | Young MC |
| Sweet Dreams | Eurhythmics |
|   | REM or ZZ Top |
| 1999 | The artist formerly known as Prince |
| Time Warp | Rocky Horror Picture Show |
RSVP INSTRUCTIONS
Fill out and return this electronic form, or email the requested information to bratfest@ipt.lpl.arizona.edu.
Fax the requested information to (520) 621 -4933, c/o Bratfest.
Snail mail the requested information plus your sponsorship donation to:
Bratfest 18
3002 E. Hawthorne St.
Tucson, AZ 85716 USA
The fabulous T-shirt design
Here it is at last... The tee shirt design for the 1996 Bratfest, "Geochemical and Microfossil Evidence for Early Bratfest on Mars," presented at the 1st meeting of the American Gastronomical Society Division of Planetary Sausages.
(Just wait'll we get around to writing a bogus paper... You'll be sorry.)
The front design, pictured below, depicts Fig.1, "Rare-food abundances for HH-96001 normalized to the CI carbonaceous chondrite Orgueil." Note the whacking great Europium anomaly. This sample is otherwise clearly enriched in traditional Bratfest food elements, ie., Saladium-P, Butterium, Cheesium, Cornium, Krautium, Beerium, and Bratium.
The back design shows an actual 20 GV electron micrograph taken of HH-96001. The caption reads, "Electron micrograph of putative Bratfest inclusion shows microfossil remnants of an early, prehistoric Martian Bratfest."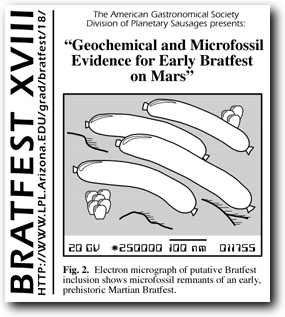 This evidence cannot be ignored! There was an early Bratfest on Mars!
Tee Shirt Colors
The tee shirts are printed on one of two shirt colors. The first is a mostly-neutral, off-white, light beige, putative 'natural' color. The second is a rather nice stone-washed, mottled red color. It's light enough that the black ink will actually show up on it. (Technically, it's not really 'stone' washed. It's 'sand' washed, which results in a much cooler texture.)
Nerd Alert!
Wow, is this nerdy! We've taken the liberty of preparing a special Adobe Acrobat PDF version of the tee shirt design! Holy cow! You can download it right now, print it out, pin it to your shirt, and pretend that you already have your BratWear! Your friends will be envious.
Download the PDF file!
One small note, however. Do not use this PDF for evil, or we'll come after you. Read the readme note, which is built into the file.
If you don't have Adobe Acrobat Reader, you can download it from Adobe Systems Incorporated today!
The DPS poster Geochemical and Microfossil Evidence for Early Bratfest on Mars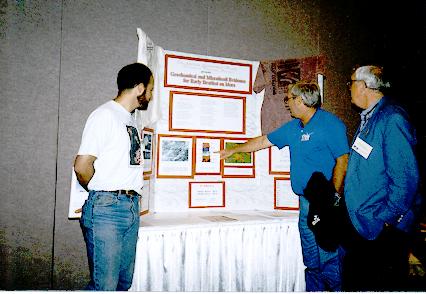 Clemmett, Gibson, and McKay found our results intriguing...
The DPS 1996 meeting was held in Tucson, in October, just coincidentally (not) timed with Bratfest. This was our promotional poster, a modification of McKay et al's now-famous paper about putative life on mars.
Thanks to the team of McKay et al. for providing inspiration and being such good sports (as well as buying lots of T-shirts!).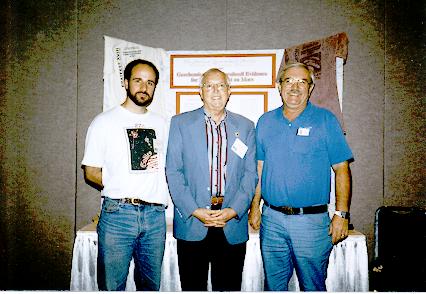 ABSTRACT:
In examining the martian meteorite HH96001 we have found that the following evidence is compatible with the existence of past Bratfests on Mars:
(i) an igneous Mars rock (of unknown geologic context) unique in experiencing beerious alteration along fractures and pore spaces and exhibiting microbrew structures;
(ii) a formation age for condiment globules younger than the age of the rock;
(iii) SEM and TEM images as well as taste tests of condiment globules and features resembling terrestrial bratwurst;
(iv) carbonaceous corndrule particles that could have resulted from oxidation reactions known to be important in terrestrial Bratfest systems; and
(v) the presence of BEANs (biochemically emissive aromatic nodules) associated with surfaces rich in condiment globules and thought to be responsible for noxious outgassing of the meteorite.
None of these observations is in itself conclusive for the existence of past Bratfests. Although there are alternative explanations for each of these phenomena taken individually, when they are considered collectively, particularly in view of their spatial association, we conclude that they are evidence for primitive Bratfests on Mars.
High-resolution Swilling Electron Microscope (SEM) image showing elongate features associated with HH96001 condiment globules. Both the putative brats and corns are clearly several orders of magnitude smaller than their terrestrial counterparts, but studies of terrestrial Bratfests have never been conducted at this scale.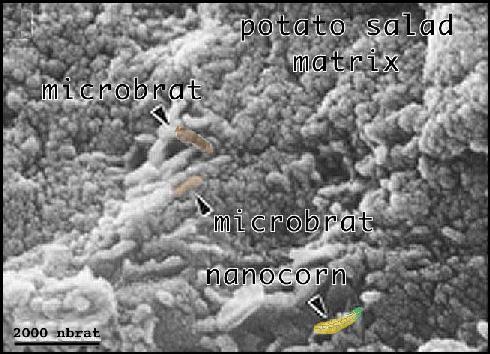 True-color Beer-Swilling Electron (BSE) image of fractured surface of a chip from HH96001 meteorite showing grasshopper cheesecake breccia. Scale bar is 0.1 millibrats.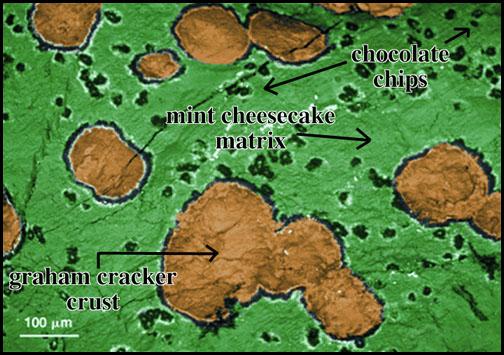 BSE image and Edible Microprobe maps showing the concentration of five condiments (ketchup, horseradish, mustard, barbecue sauce, relish) within a globule from HH96001. The condiment maps show that the globule is chemically zoned. Scale bars for all images are 20 microbrats.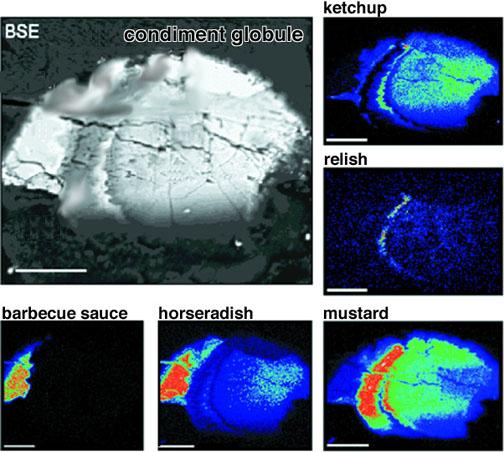 Averaged mass spectrum of trapped gases from the interior of HH96001. The components show clear evidence of a party atmosphere on Mars.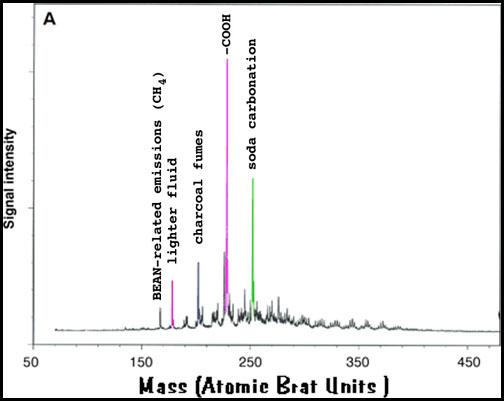 Idealized stratigraphic section of Martian crust based on findings from HH96001.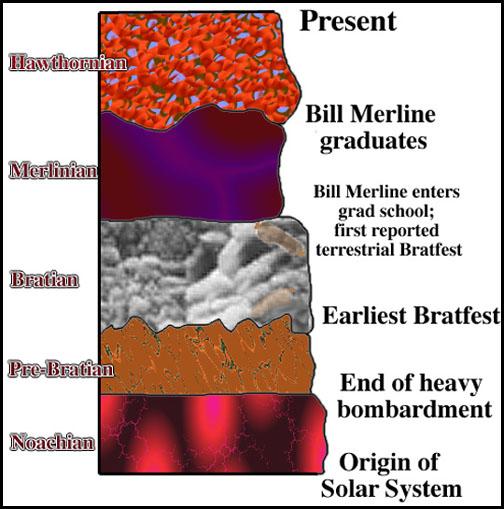 Your hosts as ever, the residents of Hawthorne House
At one point during the evening, we got everyone in attendance who'd ever lived at Hawthorne House to group together for a photo. Unfortunately, I suck at photography, so apologies for cutting off the sides.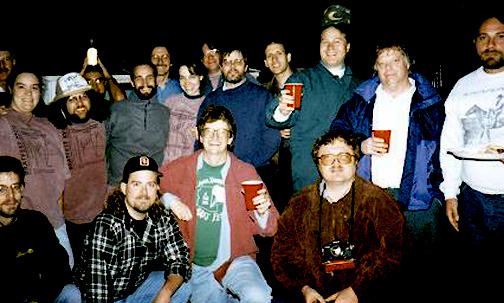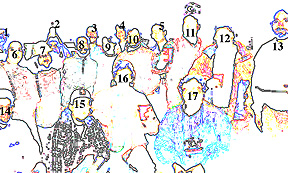 Bob Howell
Laszlo Keszthelyi
John Spencer
Dana Backman
Dave Grinspoon
Cynthia Phillips
Andy Rivkin
Will Grundy
Kim Cyr
Doyle Hall
Bill Bottke
Bill Merline
Bob Marcialis
Jim Head
Bob Reid
Nick Schneider
Gordon Bjoraker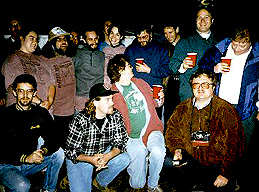 Cheesecake night pictures
The night before Bratfest, the grad student crew of LPL become expert cheesecake makers. We use only the finest ingredients to make all the cheesecakes that will be at Bratfest, from recipes created for the occasion by Faith Vilas, Bob Marcialis, Ellen Howell, and others through the years. In 1996, we made close to 60 cheesecakes! As you can imagine, all this work requires a little respite, so the evening's "Cheesecake Party" has developed a life of its own. Thanks to everyone who contributed their time and energy!
| | |
| --- | --- |
| | Some of the LPL alums gather to reminisce outside. |
The current incarnation of the LPL band, Science Diet, plays for the crowd.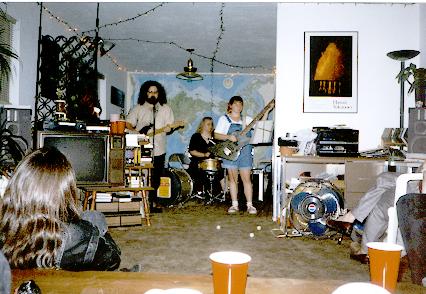 A little r and r after a long day's baking frenzy.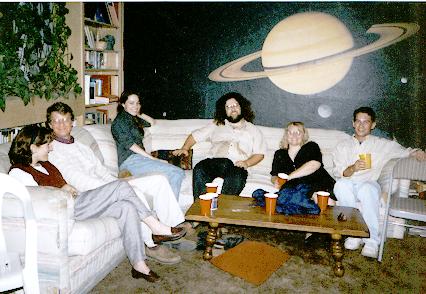 Pictures of the Fest (LOTS of images, may take a while to load)
We had a great turnout at Bratfest this year. Here's a sampling of who was there! We're embarassed to say we just don't know the names of everyone in these pctures. If you see yourself or someone you know with a ? as a name, please let us know!!!
Dave Grinspoon, John Spencer, Nadine Barlow, Nick Schneider, and Jane Spencer celebrate a reunion Bratfest.
Eileen Ryan and her husband couldn't miss it either.
(left) Andy Nelson, Lance Benner, Didier Saumon, and Derek Richardson huddle together for warmth outside, as Tucson temperatures dropped below freezing. (right) Betty Pierazzo, Jennifer Grier, Tracy Cone, and Didier Saumon huddle for warmth as well (or maybe Didier just likes to huddle??).
Carolyn Porco, Joe Spitale, David Trilling, Nick, Nancy Chabot, and Pete Lanagan serve as bouncers at the front door.
Bill Bottke congratulates Barb Cohen for helping pull off the first Bratfest without him.
Mary Agner and Bobby Bus, Charles Walter and Elizabeth Roettger, and Tim Patterson and Alex Ruzicka enjoy helping consume 7 kegs of beer at the Fest.
? Chris Shinohara, Marcus Perry, Peter Smith, and Joe Gotobed relax a little and stop talking IMP.
Mark and Maria Lemmon, Ron Fevig and his wife, and Eliot Young and Pat McGovern demonstrate "all-you-can-eat."
Bill Bottke and Erik Asphaug, big postdocs now, look down their noses at us piddly grad students.
Eliot Young, Will Grundy, and Bob Howell, ?, Alex Storrs, and Dave Tholen brave the outdoors for beer.
Erik Asphaug is dazzled by Lisa McFarlane's 3-D IMP picture.
John Spencer and Doyle Hall in a charcoal smoke haze.
Mike Drake and Bill McKinnon slummin' at Hawthorne House.
Nick Schneider proudly displays his original Bratfest 4 T-shirt!
Behind the Scenes: Barb Cohen serves up some of the 60 homemade cheesecakes, while Cynthia Phillips, Chris Schaller, and Kim Cyr keep the corn coming from the kitchen.
Joe Harrington, Linda Rowan, Bryan Butler, and Bobby Bus dig through T-Shirts of yesterbrats.
Carl Hergenrother, ?, ?, Tim Spahr and Beth Holmes keep warm in the kitchen, while Amanda Hendrix, Justin Maki, Stefanie Lawson, and Mike Wong prepare to get down and boogie on the dance floor.
Lisa McFarlane, Mark Jackson, and Brennan Cropper show us their rap technique.
"...bottom of the ninth..." Game 6 of the World Series (Yanks win it all!).
Lori Fenton and Sarah Stewart wonder why THEY didn't come to LPL for grad school.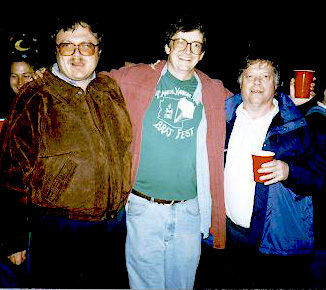 Gordy Bjoraker, Nick Schneider, and Bill Merline, the original founders of Bratfest!
| | |
| --- | --- |
| | Laszlo Keszthelyi, Cynthia Phillips, Andy Rivkin, Kim Cyr, and Bob Reid, the inhabitants of Hawthorne House and hosts of the 1996 Bratfest. |
Wow! There sure were a lot of Hawthorne House alums in attendance! Click on the photo below to see more.