Moon-themed art & Moon "SLAM" Poetry!
Do you ever feel inspired when you look at the Moon? The Lunar & Planetary Laboratory paved the way through lunar science by creating the Lunar Atlas over 60 years ago. In the height of the space race Gerald Kuiper and his collegues mapped the surface of the closest planetary body to Earth, making the lunar surface accessible for further exploration. As a special tribute to lunar science and the history of our department  we will have special Moon-themed poetry and art this year. We are honored to be partnered with International Observe the Moon Night. If you have Moon-themed art that you would like to share with the world, use the hashtag #ObservetheMoon and #TheArtofPlanetaryScience via your social media and we will be sharing and showing off all the wonderful Moon art and poetry as we lead up to Saturday September 26th, 2020.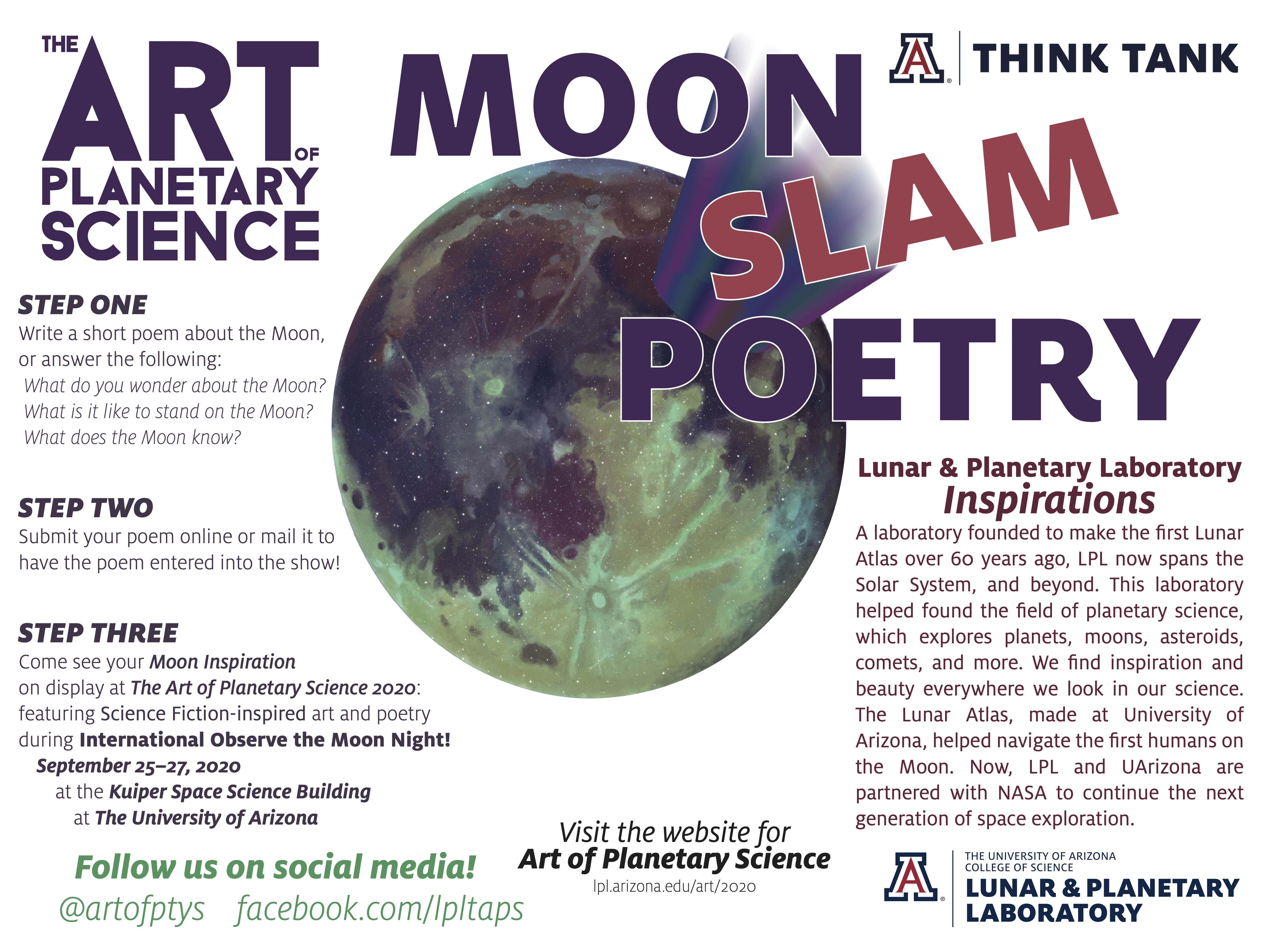 As humans gear up for a return to the Moon, we wonder what Moon Inspirations you may have?
This is a special opportunity to submit your poetry digitally about the Moon. No Moon poetry? No problem! 
You could also write your inspirational responses to the following questions:
What do you wonder about the Moon?
What is it like to stand on the Moon?
What does the Moon know?
To submit your Moon Poetry & Inspirations go here: lpl.arizona.edu/art/2020/poetry
Step 0. Make some art and/or poetry!
Step 1. Read the prospectus!
Summer 2020
Step 2. Submit your art to the 2020 show!
Summer 2020*
Step 3. Attend the art show!
Save the date for September 25–27, 2020*
*We will continue to stay apprised of University of Arizona policies and CDC guidelines for public gatherings. We will send updates as we know more.