Career Map Surprised OSIRIS-REx Scientist
UA alumna Daniella DellaGiustina wasn't planning on a career in planetary science, but one thing led to another and now she plays a significant role in the OSIRIS-REx asteroid sample return mission.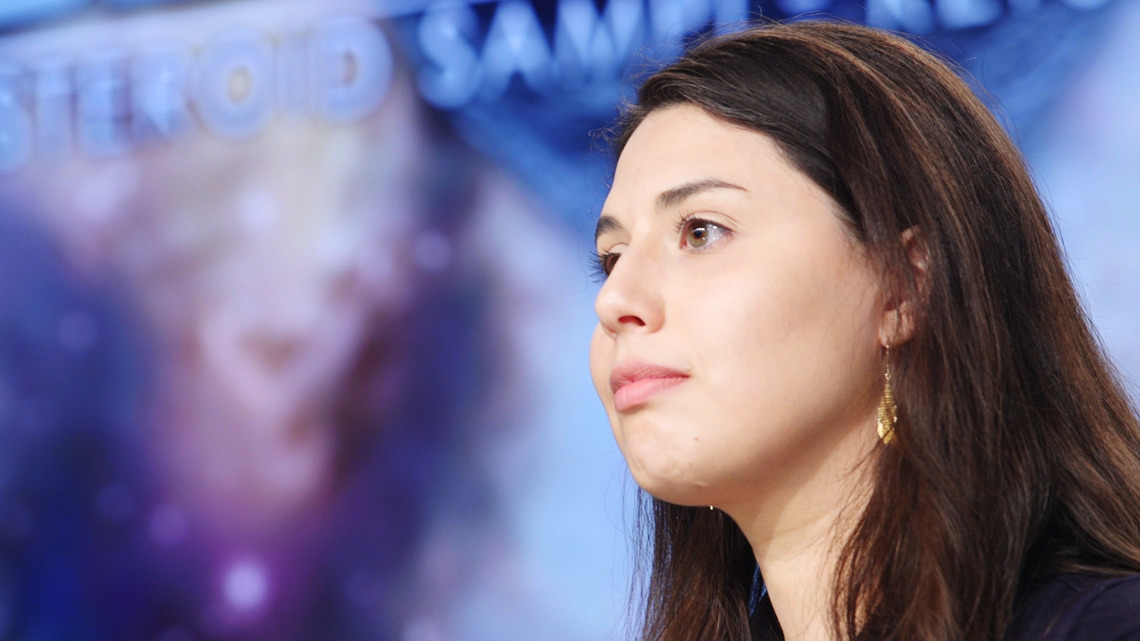 CAPE CANAVERAL, Fla. — It's a long, long, l-o-n-g way from El Paso Community College to the asteroid Bennu, but Daniella DellaGiustina has covered the distance.
The University of Arizona alumna, a self-described "military brat" who recalls making Girl Scout trips to the Flandrau Science Center & Planetarium on the UA campus, is the lead image processing scientist for the OSIRIS-REx asteroid sample return mission. As such, she will be involved in mapping the asteroid down to the ability to see an object the size of a penny on its surface. The adventure begins with Thursday's scheduled launch of the spacecraft aboard an Atlas V rocket at Cape Canaveral Air Force Station.
The UA-led mission, 12 years in the making, hopes to collect at least 60 grams (about 2 ounces) of surface material from the carbon-rich Bennu, which is about 150 million miles away and will take two years to reach. When the sample returns to Earth in 2023, it could yield clues to the origins of the solar system and life itself.
DellaGiustina, who graduated from the UA in 2008 with a bachelor's degree in physics, was only slightly less than 150 million miles from a career in planetary science at one point. Headed toward a liberal-arts major, she wasn't even on science's radar until she took a community college class in astronomy simply to get a general-education requirement out of the way.
"It sparked in me a curiosity that's still very much alive," DellaGiustina said after participating on a three-person mission science panel Tuesday at Kennedy Space Center. "I was so amazed and surprised by how abstract the universe is, and how much we don't know, and how science can answer some of these fundamental philosophical questions — Where did we come from? What is our future? — in a way that I did not recognize before.
"After that point, I made the decision that I wanted to study space science, and I transferred to the UA because it's renowned for astronomy, planetary science and optical science."
She remembers looking up at the big Arizona sky in wonderment during the years of her childhood that were spent in the Sierra Vista area.
"I have these memories of how incredibly clear the skies were and how seeing the Milky Way was just a part of my life," DellaGiustina said. "Southern Arizona is a place where you can see the stars."
When DellaGiustina was a UA undergraduate, Dante Lauretta and the late Michael Drake showed her "how to do science within engineering constraints," she said. Drake died in 2011 only four months after the UA had been awarded the OSIRIS-REx mission by NASA, to be succeeded as principal investigator by Lauretta.
DellaGiustina went on to the University of Alaska for a master's degree in computational physics before returning to the UA as a research scientist in 2012. She joined the Lunar and Planetary Laboratory in 2014.
She is one of several women to play key roles in the OSIRIS-REx mission. Others include Sara Knutson, an operations engineer and alumna of the UA College of Engineering; Catherine "Cat" Merrill, formerly deputy project manager for the UA-built OSIRIS-REx Camera Suite, or OCAMS; and Heather Enos, who will succeed Ed Beshore in October as deputy principal investigator for the mission.
Although the field of space science tends to be heavily populated by men, DellaGiustina said she never has felt shortchanged of opportunities.
"As a Hispanic female, I have to say I didn't have a tremendous amount of role models growing up to demonstrate that a career in the physical sciences was a possibility," she said. "But I never felt like doors have been closed for me."
Lauretta said he sees much of himself in DellaGiustina's career arc and work ethic, describing her as "one of my go-to people" on OSIRIS-REx. Both were NASA Space Grant interns at the UA who identified an affinity for meteoric science as undergrads.
"Her life story was very similar to mine," Lauretta said. "My job was to give her opportunity."
The mapping role for OSIRIS-REx presents a unique set of challenges for DellaGiustina.
"Mapping has typically taken place on Earth, Mars and other very large spherical bodies using tools that do everything in 2-D, measuring in latitude and longitude," she said. "But an object like Bennu is not particularly spherical, so when we try to flatten it into two dimensions, the latitude and longitude don't necessarily address points on the surface. ... A lot of software for mapping is not exactly wired to do this work."
Perhaps it takes an avid rock climber, then, to take the full measure of one big space rock.
"It's really common in rock climbing to try to think about lowering the risk of what you're going to do," said DellaGiustina, who has been a director for the Climbing Association of Southern Arizona.
"A lot of what we've done with OSIRIS-REx has been to try to mitigate risk upfront, to think through problems ahead of time so that we're prepared for what's in store for us." 
Bradley Williams, another recent UA graduate (2013, College of Engineering), has worked alongside DellaGiustina on OSIRIS-REx and said no one could be better prepared.
"She's always reaching out for more," Williams said. "She'll work more hours than anybody. She's really into it. I like working with people with a passion like hers."