Undergraduate Students at Work on OSIRIS-REx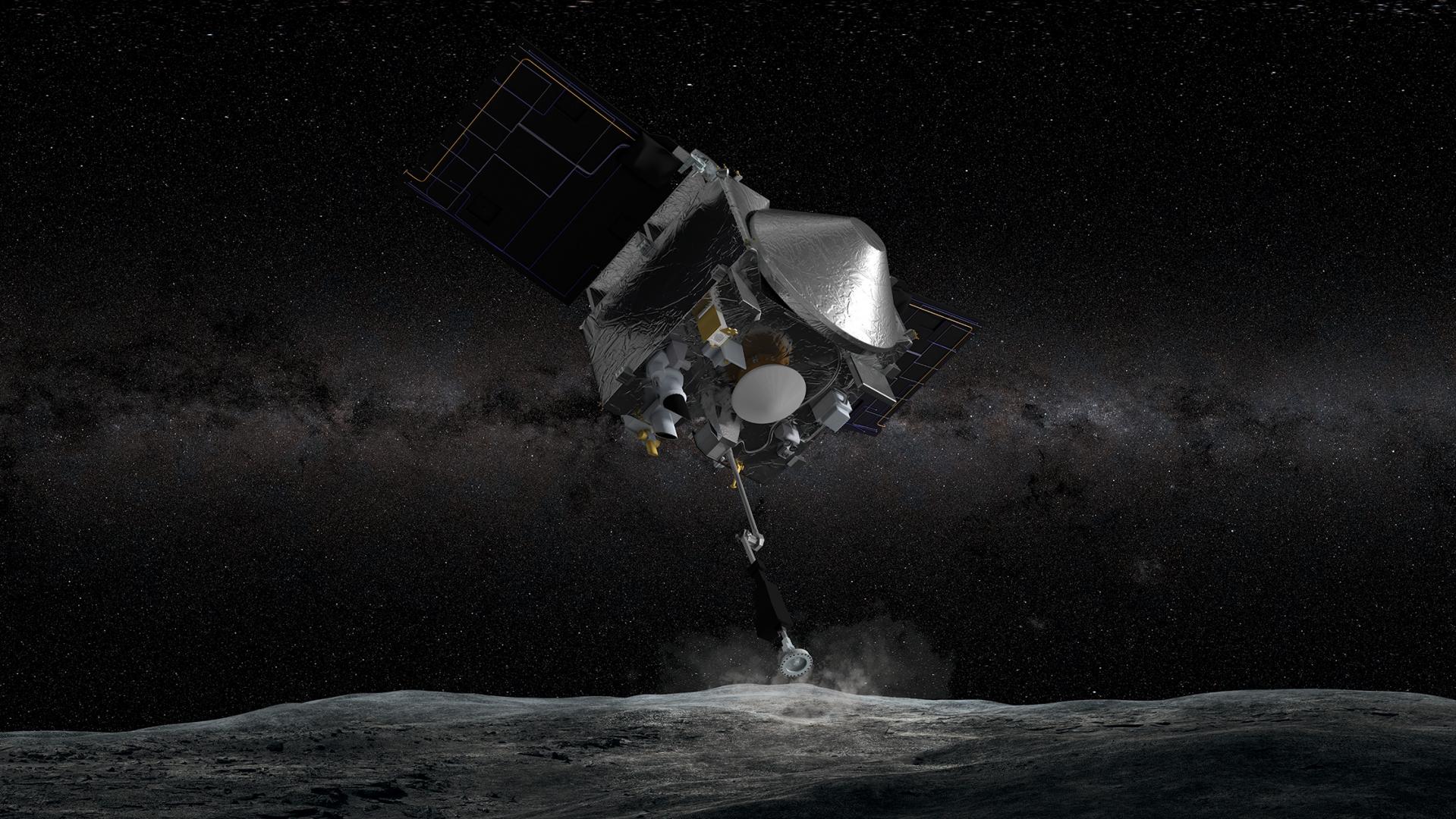 By Emily Litvack, Office of Research, Discovery & Innovation - June 28, 2019
Stephanie Stewart's work on the University of Arizona-led OSIRIS-REx mission began in earnest in February, soon after the NASA spacecraft arrived at its destination, the asteroid Bennu.
Stewart learned about the OSIRIS-REx mission through her roommate Natalie Schultz, a UA student majoring in optics and engineering and a researcher for the mission. As someone who was passionate about data systems, Stewart wanted to contribute to NASA's first mission to collect rocks and dust from an asteroid and bring it back to Earth. She figured a feat like that must involve lots and lots of data.
Right she was. The UA undergraduate, now a junior majoring in management information systems at the Eller College of Management, joined a team tasked with ensuring a flawless five-second operation to collect and stow away dust from the surface of Bennu. The team's job: Scouring image after image of Bennu, looking for a spot to land.
"The entirety of the OSIRIS-REx mission is breathtaking and inspiring," Stewart said. "After this mission, we will have samples of Bennu here on Earth that we can use to further piece together the profound history of our solar system."
Q: What do researchers hope to learn by studying rocks and dust from the surface of Bennu?
Stewart: Although there are several objectives for this asteroid sample return mission, gaining a deeper understanding of how planets formed and life began is at the forefront. Our solar system has millions of asteroids, but Bennu is classified as a near-Earth asteroid and is therefore easier to access. Due to their considerably ancient existence, asteroids can provide us with a better understanding of the building blocks of our solar system and the creation of Earth. One thing to remember is that up until now, we have used instruments that have only been calibrated to samples here on Earth. After obtaining samples and more data from Bennu, we can have a better understanding of the accuracy of our instruments in measuring items that are far away.
Q: What's the next big milestone for the OSIRIS-REx mission and what will be your role in it?
A: The OSIRIS-REx team is in the process of narrowing the original 50 regions of interest to just a handful of possible landing sites. When we originally started this mission, researchers assumed that the ideal areas would be instantly visible, but as we approached Bennu, we realized this wasn't the case. Ideally, the landing site should have sand-sized samples, but finding an area with rocks the size of a couple centimeters has been a challenge. Looking ahead, we will be obtaining more detailed images and comprehensive data of the potential sites so that we can narrow the region of interest to one. When a final area is chosen, we will collect even more detailed images and data.
Q: You work on the team identifying a "safe" place to collect samples of the asteroid Bennu. How does the team go about figuring out what's safe?
A: I specifically work with boulder identification, meaning I look at sites of interest and take note of the number, clustering and size of the rocks in a particular area. As Keara Burke, a systems engineer and data analyst for the mission, explained, the Touch-And-Go Sample Acquisition Mechanism, or TAGSAM, can only collect rocks up to about three-quarters of an inch in dimeter. Rocks larger than 21 centimeters can block the entire collection head, and rocks taller than five centimeters can cause the TAGSAM to tilt, affecting how much the chamber can collect. Therefore, it is imperative that boulder identification is both accurate and precise for this mission to be successful.
Q: Did the mission doing anything special to celebrate Asteroid Day this year?
A: Yes! Dolores Hill, the co-lead of the OSIRIS-REx Target Asteroid Program,  gave a presentation titled "OSIRIS-REx Encounters Asteroid Bennu" at the UA's Flandrau Science Center and Planetarium on Sunday, June 30. She talked about the exciting new science that has been discovered since the OSIRIS-REx spacecraft has reached Bennu. She also explained the surprises encountered since the spacecraft's arrival this past December, the next steps for sample acquisition, and the TAGSAM that will be used for the five-second collection.