UA Undergraduate to Japan for Space Mission Work
Goldwater Scholarship winner Adriana Mitchell of the UA will assist on the Japan Aerospace Exploration Agency's Hayabusa2 project, an asteroid sample return mission that is similar to the UA-led OSIRIS-REx mission by NASA.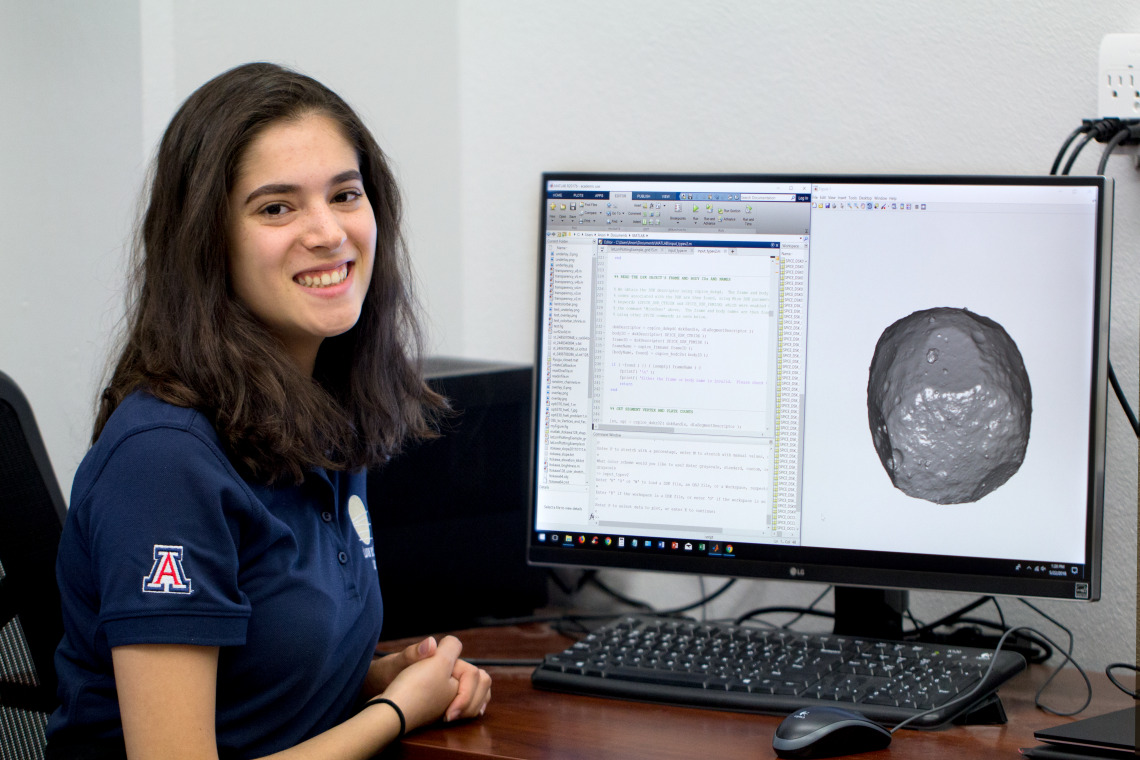 Adriana Mitchell, a University of Arizona undergraduate majoring in optical sciences and engineering who has been working with assistant professor Vishnu Reddy at the Lunar and Planetary Laboratory, is this year's sole UA recipient of the Barry M. Goldwater Scholarship and Excellence in Education. And soon she will be on her way to Japan for a unique opportunity.
The Goldwater Scholarship Program, one of the oldest and most prestigious national scholarships in the natural sciences, engineering and mathematics, seeks to identify and support college sophomores and juniors who show exceptional promise in the aforementioned fields. The scholarship provides a maximum of $7,500 per year to the student for educational expenses.
Mitchell has big plans for her future, and the Goldwater Scholarship could help those dreams come true.
"My professional aspiration is to manage NASA research missions to worlds with astrobiological implications," she says. "To reach my goal, I must first obtain a Ph.D. and learn the inner workings of interplanetary spacecraft missions."
This summer, Mitchell will travel to Japan to work with the Japan Aerospace Exploration Agency, or JAXA, on the Hayabusa2 project, a sample return mission to asteroid Ryugu. Hayabusa2 is the sister project to the UA-led OSIRIS-REx mission by NASA.
Mitchell, a College of Engineering student enrolled in a degree program administered jointly by engineering and the College of Optical Sciences, will be at JAXA headquarters during the approach and arrival phases of the mission, assisting with the creation of digital terrain models. She says it represents "a direct application of my current research on asteroids at the University of Arizona." Lucille Le Corre, a NASA-funded co-investigator on the Hayabusa2 mission, will mentor Mitchell. 
The opportunity was supported and encouraged by Reddy, who is Mitchell's mentor at the UA.
"She had been working with me for a year as a NASA Space Grant intern and she wanted to do something different for her study abroad, working on a real spacecraft mission," says Reddy, who worked to organize the collaboration with Le Corre. "I'm very proud of her, and she's always been a go-getter. It is a privilege to work with talented undergraduate students like Adriana."
Mitchell, who will leave for Japan on June 27, says, "This would not be possible without the Goldwater Foundation's support and opportunities provided by my mentors here."
Mitchell previously worked with Matt Penn at the National Solar Observatory on a research project, "Polar Plume Dynamics of the Indonesian 2016 Total Solar Eclipse," to determine the true speed of solar winds. The project was presented by Mitchell at two conferences, including the 2017 Graduate and Professional Student Council Student Showcase and the 229th meeting of the American Astronomical Society. 
She also has published in journals and presented at other conferences in her growing research career. She has presented research at the Crossroads Eclipse 2017 Research Workshop, the 2017 Eclipse Science Showcase and the 12th American Physical Society Conference for Undergraduate Women in Physics.