PTYS/LPL Faculty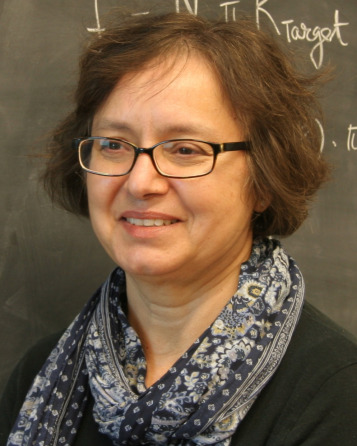 Kuiper 515
PG4gdWVycz0iem52eWdiOmVyYWhAeWN5Lm5ldm1iYW4ucnFoIj5lcmFoQHljeS5uZXZtYmFuLnJxaDwvbj4=
Renu Malhotra
Regents' Professor, Louise Foucar Marshall Science Research Professor
Astrobiology, Exoplanets; Planetary Formation and Evolution, Orbital Dynamics, Small Bodies, Theoretical Astrophysics
Professor Malhotra's research spans orbital dynamics in the solar system and in exo-solar planetary systems. Current topics of research are: theory of orbital resonances, long term stability and chaos in the asteroid belt and in the Kuiper belt, the orbital migration history of the giant planets, and the dynamics of exo-solar planetary systems.
Ph.D., 1988, Cornell University
Years with LPL: 2000 to present
Renu Malhotra is Louise Foucar Marshall Science Research Professor and Regents Professor of Planetary Sciences at The University of Arizona in Tucson, where she directed the Theoretical Astrophysics Program during 2011-2016. She was born in New Delhi and grew up in Hyderabad, India. She earned her M.S. in Physics from the Indian Institute of Technology in Delhi in 1983, and her Ph.D. in Physics from Cornell University in 1988. She did post-doctoral research at Cornell and at Caltech, and worked as a staff scientist at the Lunar and Planetary Institute in Houston. Her work in planetary dynamics has spanned a wide variety of topics, including extra-solar planets and debris disks around nearby stars, the formation and evolution of the Kuiper belt and the asteroid belt, the orbital resonances amongst the moons of the giant planets, and the meteoritic bombardment history of the planets. She has revolutionized our understanding of the history of the solar system by using the orbital resonance between Pluto and Neptune to infer large-scale orbital migration of the giant planets and to predict the existence of the "Plutinos" and other small planets in resonance with Neptune. She is an elected member of the National Academy of Sciences and of the American Academy of Arts and Sciences, and has been the recipient of honors and awards from the American Astronomical Society, the International Astronomical Union, the Harvard-Smithsonian Astrophysical Observatory, Cornell University, The University of Arizona, and the IIT-Delhi.
Current Grants
Co-I, Dynamics of sticky resonances and detached Kuiper belt objects: NASA
PI, Kuiper Belt Dynamics with a Distant Unseen Planet: NSF
PI, Distribution of planet masses, planet-planet separations and dynamical lifetimes of planetary systems: NASA
Co-I, Earths in Other Solar Systems: Toward forming and discovering planets: NASA
Current Spacecraft Involvement
Former Spacecraft Involvement
Interstellar Probe Science Definition Team, 1999-2004
Brenae Bailey (APPMATH)
Theodore Broeren (APPMATH)
Saverio Cambioni (PTYS)
Michael Hammer (ASTR)
Hamish Hay (PTYS)
Nathan Hendler (PTYS)
Youngmin JeongAhn (PTYS)
Lei Lan (Tsinghua University)
Po-Yen Liu (NCU-Taiwan)
Ian Matheson (AME)
David Minton (PTYS)
Amaya Moro-Martin (ASTR)
Sarah Morrison (PTYS)
Jessica Pillow (APPMATH)
Nathan Reiland (AME)
Timothy Rodigas (ASTR)
Rachel Smullen (ASTR)
Adam Sutherland (ASTR)
Matthew Tiscareno (PTYS)
Kathryn Volk ( PTYS)
Xianyu Wang (Tsinghua University)
Nan Zhang  (Tsinghua University)
Former Postdocs
Kathryn Volk
Joseph Hahn
Stephen Kortenkamp
Complete publications list available from: NASA ADS Author search: Renu Malhotra
Refereed publications (NASA ADS): Calendar Years 2017 through June 2020
Malhotra, R., Ingersoll, A. P. Adam P. Showman (1968-2020) 2020Icar..34513780M
Malhotra, R., Zhang, N. On the Divergence of First Order Resonance Widths at Low Eccentricities 2020MNRAS.tmp.1888M
Hendler, N., Pascucci, I., Pinilla, P., Tazzari, M., Carpenter, J., Malhotra, R., Testi, L. The Evolution of Dust Disk Sizes from a Homogeneous Analysis of 1-10 Myr old Stars 2020ApJ...895..126H
Markwardt, L., Gerdes, D. W., Malhotra, R., Becker, J. C., Hamilton, S. J., Adams, F. C. Search for L5 Earth Trojans with DECam 2020MNRAS.492.6105M
Malhotra, R. Resonant Kuiper belt objects: a review 2019GSL.....6...12M
Lan, L., Malhotra, R. Neptune's resonances in the scattered disk 2019CeMDA.131...39L
Volk, K., Malhotra, R. Not a Simple Relationship between Neptune's Migration Speed and Kuiper Belt Inclination Excitation 2019AJ....158...64V
Su, K. Y. L., Jackson, A. P., Gáspár, A., Rieke, G. H., Dong, R., Olofsson, J., Kennedy, G. M., Leinhardt, Z. M., Malhotra, R., Hammer, M., Meng, H. Y. A., Rujopakarn, W., Rodriguez, J. E., Pepper, J., Reichart, D. E., James, D., Stassun, K. G. Extreme Debris Disk Variability: Exploring the Diverse Outcomes of Large Asteroid Impacts During the Era of Terrestrial Planet Formation 2019AJ....157..202S
Walsh, K. J., Jawin, E. R., Ballouz, R.-L., Barnouin, O. S., Bierhaus, E. B., Connolly, H. C., Molaro, J. L., McCoy, T. J., Delbo', M., Hartzell, C. M., Pajola, M., Schwartz, S. R., Trang, D., Asphaug, E., Becker, K. J., Beddingfield, C. B., Bennett, C. A., Bottke, W. F., Burke, K. N., Clark, B. C., Daly, M. G., Dellagiustina, D. N., Dworkin, J. P., Elder, C. M., Golish, D. R., Hildebrand, A. R., Malhotra, R., Marshall, J., Michel, P., Nolan, M. C., Perry, M. E., Rizk, B., Ryan, A., Sandford, S. A., Scheeres, D. J., Susorney, H. C. M., Thuillet, F., Lauretta, D. S., Osiris-Rex Team Publisher Correction: Craters, boulders and regolith of (101955) Bennu indicative of an old and dynamic surface 2019NatGe..12..399W
Walsh, K. J., Jawin, E. R., Ballouz, R.-L., Barnouin, O. S., Bierhaus, E. B., Connolly, H. C., Molaro, J. L., McCoy, T. J., Delbo', M., Hartzell, C. M., Pajola, M., Schwartz, S. R., Trang, D., Asphaug, E., Becker, K. J., Beddingfield, C. B., Bennett, C. A., Bottke, W. F., Burke, K. N., Clark, B. C., Daly, M. G., Dellagiustina, D. N., Dworkin, J. P., Elder, C. M., Golish, D. R., Hildebrand, A. R., Malhotra, R., Marshall, J., Michel, P., Nolan, M. C., Perry, M. E., Rizk, B., Ryan, A., Sandford, S. A., Scheeres, D. J., Susorney, H. C. M., Thuillet, F., Lauretta, D. S., Osiris-Rex Team Craters, boulders and regolith of (101955) Bennu indicative of an old and dynamic surface 2019NatGe..12..242W
Rizk, B., Drouet d'Aubigny, C., Hergenrother, C. W., Bos, B. J., Golish, D. R., Malhotra, R., Lauretta, D. S., Butt, J., Patel, J., Fitzgibbon, M., May, C., Bierhaus, E. B., Freund, S., Fisher, M., Cambioni, S., Bennett, C. A., Balram-Knutson, S. S., Harshman, K., DellaGiustina, D. N., Antreasian, P., Leonard, J., Mink, R., Calloway, A., Bartels, A. E., Enos, H., Boynton, W. V., Nolan, M. C., Moreau, M. OSIRIS-REx low-velocity particles during outbound cruise 2019AdSpR..63..672R
Malhotra, R., Lan, L., Volk, K., Wang, X. Neptune's 5:2 Resonance in the Kuiper Belt 2018AJ....156...55M
Trilling, D. E., Bellm, E. C., Malhotra, R. On the Detectability of Planet X with LSST 2018AJ....155..243T
Strom, R. G., Marchi, S., Malhotra, R. Ceres and the terrestrial planets impact cratering record 2018Icar..302..104S
Cambioni, S., Malhotra, R. The Mid-plane of the Main Asteroid Belt 2018AJ....155..143C
Su, K. Y. L., MacGregor, M. A., Booth, M., Wilner, D. J., Flaherty, K., Hughes, A. M., Phillips, N. M., Malhotra, R., Hales, A. S., Morrison, S., Ertel, S., Matthews, B. C., Dent, W. R. F., Casassus, S. ALMA 1.3 mm Map of the HD 95086 System 2017AJ....154..225S
Volk, K., Malhotra, R. Erratum: "The Curiously Warped Mean Plane of the Kuiper Belt" (2017, AJ, 154, 62) 2017AJ....154..212V
Volk, K., Malhotra, R. The Curiously Warped Mean Plane of the Kuiper Belt 2017AJ....154...62V
Wang, X., Malhotra, R. Mean Motion Resonances at High Eccentricities: The 2:1 and the 3:2 Interior Resonances 2017AJ....154...20W
JeongAhn, Y., Malhotra, R. Simplified Derivation of the Collision Probability of Two Objects in Independent Keplerian Orbits 2017AJ....153..235J
Malhotra, R., Wang, X. Eccentricity distribution in the main asteroid belt 2017MNRAS.465.4381M
| Available files | Size | Created |
| --- | --- | --- |
| cv.pdf | 164.68 KB | July 9, 2020 |
Last updated on September 11, 2020