Moon Tree Celebration!: Poetry, Apollo, and Trees, Oh My!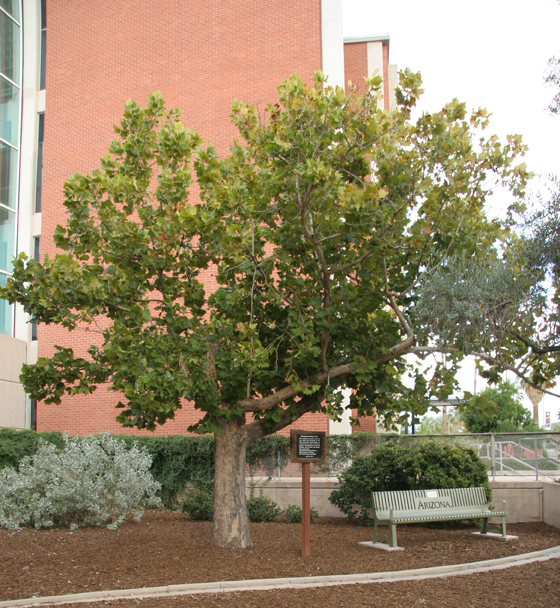 Moon tree
roots dig, branches reach
towards home
-Moon Tree Haiku by Maria Schuchardt
LPL alumni may remember the University of Arizona (UA) Moon Tree as a familiar friend that has grown to maturity alongside LPL. Its shade offers a place of peaceful reflection or simply a place to enjoy a pleasant lunch. It is a magnificent reminder of the Apollo program, LPL's important role in it, and ongoing lunar research. On October 30, an extraordinary confluence of disciplines came together to celebrate the UA's Bicentennial Moon Tree, located between the Kuiper Space Sciences Building and Flandrau Science Center. Keynote speaker Jack Roosa, a resident of Tucson, represented his late father, Apollo 14 astronaut Stuart Roosa, and shared his story.
TO THE MOON AND BACK WITH APOLLO 14
As part of a U.S. Forest Service experiment on germination, astronaut Stuart Roosa carried 400-500 tree seeds (a mix of five species) to lunar orbit and back on the Apollo 14 mission to the Moon in 1971. The gesture was a tribute to the "smoke jumpers" who risked their lives fighting forest fires after parachuting into remote areas—Roosa had been a smoke jumper himself during a summer break from college. The tree seeds experienced 34 orbits around the Moon and 9 days 2 minutes in space. During post-flight decontamination, the seed container burst open and the seeds commingled. However, they were sorted and eventually germinated properly after all.
FINAL DESTINATION: THE UNIVERSITY OF ARIZONA
The UA's American sycamore seedling was planted on Arbor Day, April 30, 1976, in honor of the U.S. Bicentennial. Prescott and Flagstaff received the same honor, but the UA tree is the only original moon tree remaining in Arizona. David Williams at NASA Goddard Spaceflight Center documents it as one of only 64 surviving moon trees located around the world. The Moon Tree is one of 800 heritage trees and plants cared for by the UA Campus Arboretum.
SPECIAL HONORS
The Moon Tree is one of the few trees in Tucson with a special heritage and connection to distinguished Tucson residents honored at the Oct. 30 commemoration. The public Moon Tree Celebration at LPL was a collaboration of the University of Arizona's Campus Arboretum, Lunar and Planetary Laboratory, UA Poetry Center, and the UA Laboratory of Tree-Ring Research. The event brought together members of the community who would not normally be attracted to all of these disciplines.
Jack Roosa gave a fascinating keynote presentation that described Stuart Roosa's humble roots, forest fire-fighting experience, Apollo 14 mission experiences, and the continuing search for "missing" moon trees. We were thrilled that Mr. Roosa's family was also able to attend the celebration.
Tyler Meier, Executive Director of the UA Poetry Center, discussed the connection between words, events, emotions, and the environment. He recited a poem titled, "The Sycamore," by Wendell Berry—a very appropriate poem for the UA Moon Tree, which has survived blistering summers and withering winters.
LPL Director Dr. Tim Swindle recounted the fast-paced events that led to LPL's involvement at the very beginning of the U.S.–Soviet race to the Moon in the 1960s and Apollo missions. He described the experiences that prepared LPL founder Dr. Gerard P. Kuiper, lunar astronomer Ewen Whitaker, and others for their future service to our country's robotic and manned lunar programs.
Also speaking at the commemoration was Dr. Steve Leavitt, Acting Director of the UA Laboratory of Tree-Ring Research, who made a presentation about A.E. Douglass and his work with astronomy and dendrochronology, from Lowell Observatory to the University of Arizona. Dr. Tanya Quist, Director of the UA Campus Arboretum, reminded us of the beneficial interconnection between trees, science, poetry, and art.
The commoration was fitting tribute to Stuart Roosa. No other Moon Tree can boast such a diverse collection of admirers all in one place.
SPECIAL EXHIBITS
LPL staff members Maria Schuchardt, Dolores Hill, and Rik Hill displayed an assortment of Apollo 14 images, original photographs from the collection of LPL lunar atlases, and other memorabilia; the other sponsoring departments displayed posters and materials pertaining to poetry, tree rings, and the Campus Arboretum. In addition, world-renowned space artists Simon Kregar, Michelle Rouch, and Jim Scotti graced the scene with beautiful Apollo-themed art pieces. Ms. Rouch created an original Moon Tree art piece especially for the celebration. The Tucson Amateur Astronomy Association brought telescopes for a stargazing party in hopes that it might clear. The evening ended with a special viewing of the award-winning film, Desert Moon, by filmmaker Jason Davis.
CONNECTIONS TO EACH OTHER: PAST, PRESENT, FUTURE
We were honored to have Moon expert Ewen Whitaker in the audience. Jack Roosa expressed appreciation to Ewen for his many contributions to the Apollo program. Students from the Coronado Middle School Space Science Club were excited to meet Ewen and took the opportunity to shake his hand and thank him for his work. It was wonderful to see the generations connect.
Everyone who attended enjoyed discovering the many connections we have through the Moon Tree. The celebration allowed us to expand our personal horizons while honoring the UA Moon Tree and the extraordinary man who carried its seed to the Moon and back.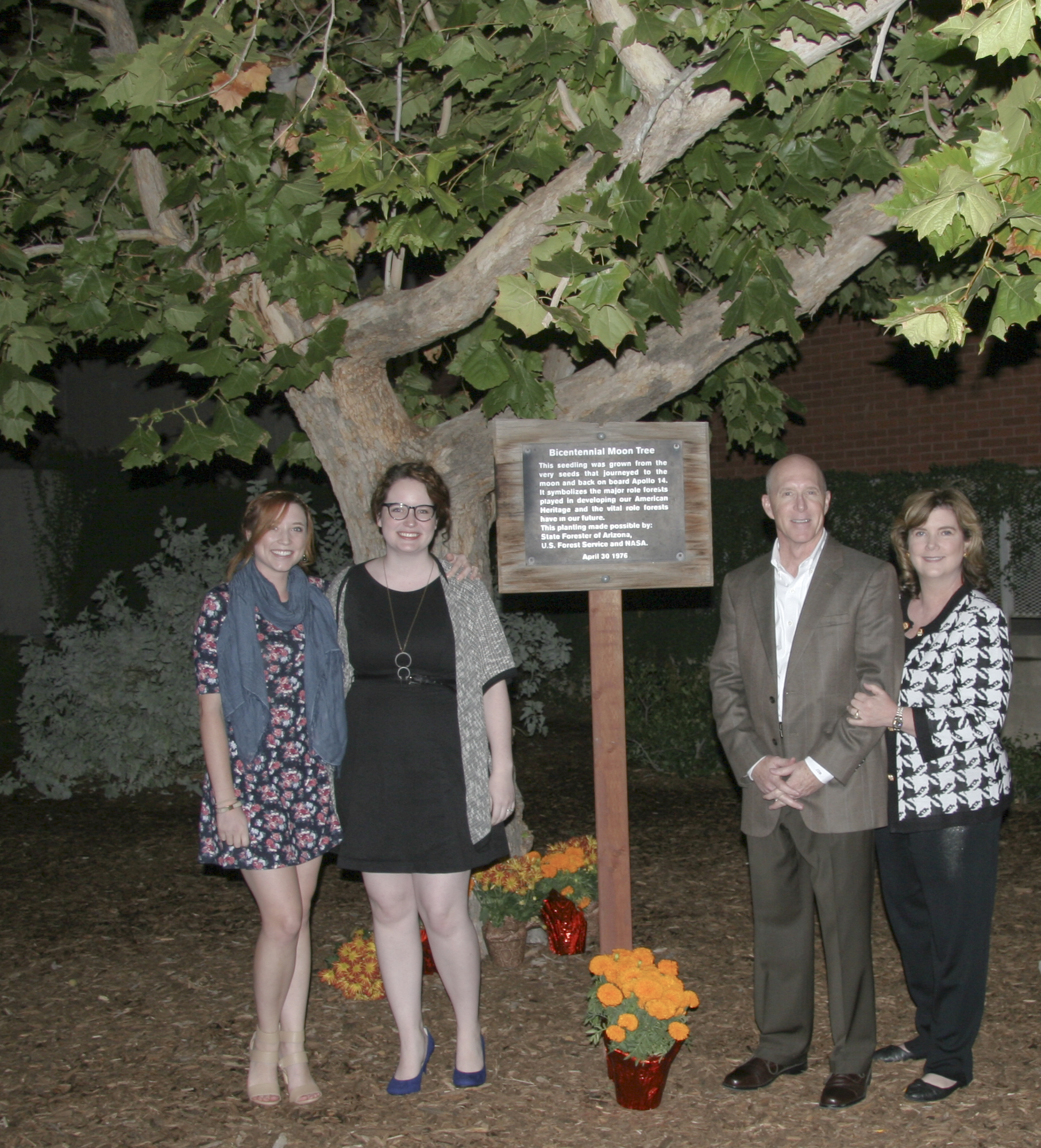 From Left to Right: Danielle, Kathleen, Jack, and Nannon Roosa. Photo courtesy:  Michelle Rouch.
All photos courtesy Maria Schuchardt.