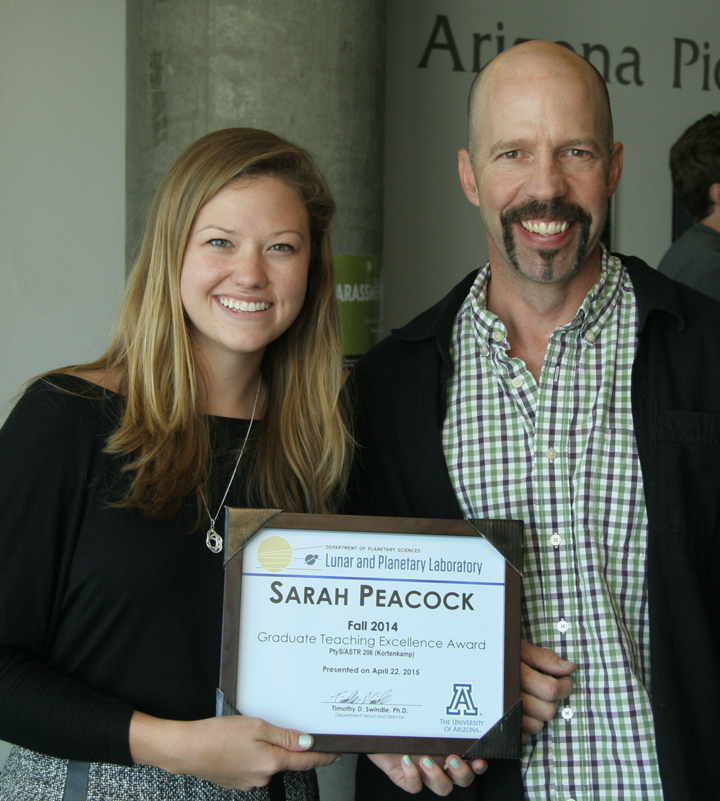 Sarah Peacock is the recipient of the Outstanding Graduate Teaching Assistant Award for Fall 2014. Sarah earned the award for her work as a GTA with Dr. Steven Kortenkamp in the PTYS/ASTR 206 course. She is a second-year graduate student working with Associate Professor Travis Barman.
The students that Sarah worked with nominated her as deserving for going "above and beyond," communicating enthusiasm for course content as well as for her own research, and crediting her with their success in the course. Dr. Kortenkamp cites a special challenge for Sarah and her fellow PTYS 206 GTA: having to learn and operate the new full-dome digital projection system at Flandrau, where the course is taught. When not under the Flandrau dome, Sarah  proctored regular evening observing sessions, held bi-weekly one-on-one tutoring sessions and group help sessions, and organized a special project that connected the undergraduate students with the LPL Art of Planetary Science exhibition by encouraging students to submit pieces to the show for extra credit. Sarah believes "that the show was a great way to make planetary science more accessible" to the students.
Recipients of the Outstanding GTA Award receive funds of up to $1,000 to support travel to a professional meeting of their choice.