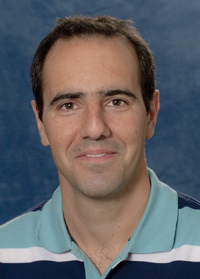 Federico Fraschetti is an Associate Staff Scientist at LPL and Guest Lecturer/Faculty Affiliate Member of the Theoretical Astrophysics Program at the University of Arizona. He joined the department in 2009. His research interests are in the origin of cosmic-rays, the particle acceleration/transport and the turbulence generation at shocks emitted in multi-scale explosive phenomena, as well as coronal mass ejections from the Sun, supernovae, and gamma-ray bursts (GRBs).
He earned his B.S. and M.S. (2001) in Italy at the University of Rome La Sapienza and his Ph.D. (2004) at the University of Rome La Sapienza/University of Trento. Federico's doctoral research was on the modeling of ultra-relativistic shocks of GRBs, the most powerful explosions in the Universe. For this work, he was awarded the Tacchini prize by SAIt (Italian Society for Astronomy).
Prior to joining LPL, Federico held a postdoctoral appointment at Brera Astronomical Observatory (Italy) with the Swift mission for GRBs, before moving on to work as a Postdoctoral Fellow at CEA/Saclay (France), where his research was on numerical simulations of cosmic-rays and convective instabilities at supernova remnant shocks.
In his free time, Federico enjoys swimming and tennis, playing the violin, and cooking. He also enjoys time with his wife, renaissance art historian Evgenia Diakonenko, and his two children.