PTYS/LPL Research Scientists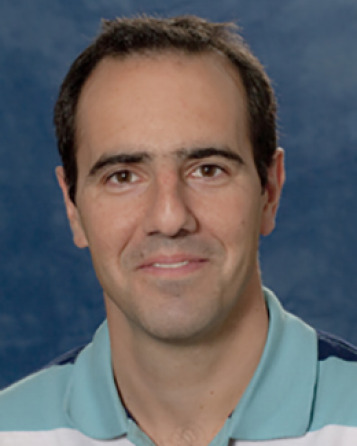 Kuiper 413
PG4gdWVycz0iem52eWdiOnNzZW5mcHVyQHljeS5uZXZtYmFuLnJxaCI+c3NlbmZwdXJAeWN5Lm5ldm1iYW4ucnFoPC9uPg==
Federico Fraschetti
Associate Staff Scientist
Solar and Heliospheric Research, Theoretical Astrophysics
Theoretical astrophysicist with broad interests in the problem of acceleration and transport of charge particles in turbulent media, namely origin of cosmic-rays.
Interests span from space physics (modelling of particle acceleration at interplanetary shocks and of propagation of solar energetic particles in the interplanetary medium, and interpretation of spacecraft measurements, e.g., ACE, STEREO, Wind, Parker Solar Probe), high energy astrophysics (modelling of particle acceleration, of mechanisms of electromagnetic radiation and dynamics of magnetic field at supernova remnant shocks and pulsar wind nebulae, interpretation of data from, e.g.,  Chandra, XMM-Newton, Fermi-LAT, VERITAS) and laboratory astrophysics (project/interpretation of experiments to study the generation of collisionless shock waves).
Recent interest in the effect of charged particles accelerated by young stars on the evolution of proto-planetary disks and on the evolution of life in exo-planets (TRAPPIST-1).
Methods used: analytic (pen & paper), numeric (editing, parallelising, using codes on NASA super-computers).
Current Grants
Anisotropy and particle injection at localized enhancements of supra-thermal particles at oblique collisionless shocks at 1 AU, NASA (PI)
Novel approach to acceleration and escape of charged particles at interplanetary and astrophysical shock waves, NSF (PI)
The ionization of M dwarf exoplanet atmospheres by flare energetic particles, Chandra Theory proposal (Co-I)
Current Spacecraft Involvement
ACE, STEREO, Chandra, XMM-Newton, Swift, Fermi-LAT, NuSTAR
Student Collaborations/Advising
Currently advised students
Yue Zeng (Undergrad, Major Astronomy)
Formerly advised students
Connie Zhou (now B.S. at NYU)
Mohira Rassel (now post-B.S. at Los Alamos National Laboratory)
Formerly co-advised students
Erica McEvoy (now Data Scientist in Washington DC)
Fan Guo (now Post-doctoral researcher at Los Alamos National Laboratory)
Fabio Acero (now Researcher at CEA-Saclay)
Maria Grazia Bernardini (now Post-doctoral researcher at University of Montpellier, France)
Alessandra Corsi (now Assistant Professor at Texas Tech University)
Roberto Guida (now Senior Quantum Analyst in Los Angeles area)
Looking for new and excited graduate students.
Complete publications list available from: NASA ADS Author search: Federico Fraschetti
Refereed publications (NASA ADS): Calendar Years 2017 through June 2019
Moschou, S.-P., Drake, J. J., Cohen, O., Alvarado-Gómez, J. D., Garraffo, C., Fraschetti, F. The Stellar CME─Flare Relation: What Do Historic Observations Reveal? 2019ApJ...877..105M
A Airapetian, Vladimir; Adibekyan, V.; Ansdell, M.; Alexander, D.; Barklay, T.; Bastian, T.; Boro Saikia, S.; Cohen, O.; Cuntz, M.; Danchi, W.; Davenport, J.; DeNolfo, G.; DeVore, R.; Dong, C. F.; Drake, J. J.; France, K.; Fraschetti, F.; Herbst, K.; Garcia-Sage, K.; Gillon, M.; Glocer, A.; Grenfell, J. L.; Gronoff, G.; Gopalswamy, N.; Guedel, M.; Hartnett, H.; Harutyunyan, H.; Hinkel, N. R.; Jensen, A. G.; Jin, M.; Johnstone, C.; Kahler, S.; Kalas, P.; Kane, S. R.; Kay, C.; Kitiashvili, I. N.; Kochukhov, O.; Kondrashov, D.; Lazio, J.; Leake, J.; Li, G.; Linsky, J.; Lueftinger, T.; Lynch, B.; Lyra, W.; Mandell, A. M.; Mandt, K. E.; Maehara, H.; Miesch, M. S.; Mickaelian, A. M.; Mouschou, S.;
Notsu, Y.; Ofman, L.; Oman, L. D.; Osten, R. A.; Oran, R.; Petre, R.; Ramirez, R. M.; Rau, G.; Redfield, S.; Réville, V.; Rugheimer, S.; Scheucher, M.; Schlieder, J. E.; Shibata, K.; Schnittman, J. D.; Soderblom, David; Strugarek, A.; Turner, J. D.; Usmanov, A.; Van Der Holst, B.; Vidotto, A.; Vourlidas, A.; Way, M. J.; Wolk, Scott J.; Zank,G. P.; Zarka, P.; Kopparapu, R.; Babakhanova, S.; Pevtsov, A. A.; Lee, Y.; Henning, W.; Colón, K. D.; Wolf, E. T. Reconstructing Extreme Space Weather From Planet Hosting Stars 2019BAAS...51c.564A
Shawhan, P.; Ford, K. E. S.; Fraschetti, F.; Fryer, C.; Liebling, S. L.; Perna, R.; Veres, P.; Zhang, B. Multi-Messenger Astrophysics Opportunities with Stellar-Mass Binary Black Hole Mergers 2019BAAS...51c.531S
Fraschetti, F., Drake, J. J., Alvarado-Gómez, J. D., Moschou, S. P., Garraffo, C., Cohen, O. Stellar Energetic Particles in the Magnetically Turbulent Habitable Zones of TRAPPIST-1-like Planetary Systems 2019ApJ...874...21F
in't Zand, J. J. M., Bozzo, E., Qu, J., Li, X.-D., Amati, L., Chen, Y., Donnarumma, I., Doroshenko, V., Drake, S. A., Hernanz, M., Jenke, P. A., Maccarone, T. J., Mahmoodifar, S., de Martino, D., De Rosa, A., Rossi, E. M., Rowlinson, A., Sala, G., Stratta, G., Tauris, T. M., Wilms, J., Wu, X., Zhou, P., Agudo, I., Altamirano, D., Atteia, J.-L., Andersson, N. A., Baglio, M. C., Ballantyne, D. R., Baykal, A., Behar, E., Belloni, T., Bhattacharyya, S., Bianchi, S., Bilous, A., Blay, P., Braga, J., Brandt, S., Brown, E. F., Bucciantini, N., Burderi, L., Cackett, E. M., Campana, R., Campana, S., Casella, P., Cavecchi, Y., Chambers, F., Chen, L., Chen, Y.-P., Chenevez, J., Chernyakova, M., Jin, C., Ciolfi, R., Costantini, E., Cumming, A., D'Aì, A., Dai, Z.-G., D'Ammando, F., De Pasquale, M., Degenaar, N., Del Santo, M., D'Elia, V., Di Salvo, T., Doyle, G., Falanga, M., Fan, X., Ferdman, R. D., Feroci, M., Fraschetti, F., Galloway, D. K., Gambino, A. F., Gandhi, P., Ge, M., Gendre, B., Gill, R., Götz, D., Gouiffès, C., Grandi, P., Granot, J., Güdel, M., Heger, A., Heinke, C. O., Homan, J., Iaria, R., Iwasawa, K., Izzo, L., Ji, L., Jonker, P. G., José, J., Kaastra, J. S., Kalemci, E., Kargaltsev, O., Kawai, N., Keek, L., Komossa, S., Kreykenbohm, I., Kuiper, L., Kunneriath, D., Li, G., Liang, E.-W., Linares, M., Longo, F., Lu, F., Lutovinov, A. A., Malyshev, D., Malzac, J., Manousakis, A., McHardy, I., Mehdipour, M., Men, Y., Méndez, M., Mignani, R. P., Mikusincova, R., Miller, M. C., Miniutti, G., Motch, C., Nättilä, J., Nardini, E., Neubert, T., O'Brien, P. T., Orlandini, M., Osborne, J. P., Pacciani, L., Paltani, S., Paolillo, M., Papadakis, I. E., Paul, B., Pellizzoni, A., Peretz, U., Pérez Torres, M. A., Perinati, E., Prescod-Weinstein, C., Reig, P., Riggio, A., Rodriguez, J., Rodríguez-Gil, P., Romano, P., Różańska, A., Sakamoto, T., Salmi, T., Salvaterra, R., Sanna, A., Santangelo, A., Savolainen, T., Schanne, S., Schatz, H., Shao, L., Shearer, A., Shore, S. N., Stappers, B. W., Strohmayer, T. E., Suleimanov, V. F., Svoboda, J., Thielemann, F.-K., Tombesi, F., Torres, D. F., Torresi, E., Turriziani, S., Vacchi, A., Vercellone, S., Vink, J., Wang, J.-M., Wang, J., Watts, A. L., Weng, S., Weinberg, N. N., Wheatley, P. J., Wijnands, R., Woods, T. E., Woosley, S. E., Xiong, S., Xu, Y., Yan, Z., Younes, G., Yu, W., Yuan, F., Zampieri, L., Zane, S., Zdziarski, A. A., Zhang, S.-N., Zhang, S., Zhang, S., Zhang, X., Zingale, M. Observatory science with eXTP 2019SCPMA..6229506I
Zhou, C.; Fraschetti, F.; Drake, J. J.; Pohl, M. Spectral Curvature of Shock-accelerated Particles in Solar Cycle 23 2018RNAAS...2c.145Z
Fraschetti, F., Katsuda, S., Sato, T., Jokipii, J. R., Giacalone, J. Vortical Amplification of the Magnetic Field at an Inward Shock of Supernova Remnant Cassiopeia A 2018PhRvL.120y1101F
Rigby, A., Cruz, F., Albertazzi, B., Bamford, R., Bell, A. R., Cross, J. E., Fraschetti, F., Graham, P., Hara, Y., Kozlowski, P. M., Kuramitsu, Y., Lamb, D. Q., Lebedev, S., Marques, J. R., Miniati, F., Morita, T., Oliver, M., Reville, B., Sakawa, Y., Sarkar, S., Spindloe, C., Trines, R., Tzeferacos, P., Silva, L. O., Bingham, R., Koenig, M., Gregori, G. Electron acceleration by wave turbulence in a magnetized plasma 2018NatPh..14..475R
Fraschetti, F. Possible role of magnetic reconnection in the electromagnetic counterpart of binary black hole merger 2018JCAP...04..054F
Fraschetti, F., Drake, J. J., Cohen, O., Garraffo, C. Mottled Protoplanetary Disk Ionization by Magnetically Channeled T Tauri Star Energetic Particles 2018ApJ...853..112F
Sato, T., Katsuda, S., Morii, M., Bamba, A., Hughes, J. P., Maeda, Y., Ishida, M., Fraschetti, F. X-Ray Measurements of the Particle Acceleration Properties at Inward Shocks in Cassiopeia A 2018ApJ...853...46S
Fraschetti, F., Pohl, M. Particle acceleration model for the broad-band baseline spectrum of the Crab nebula 2017MNRAS.471.4856F
| Available files | Size | Created |
| --- | --- | --- |
| CV.pdf | 110.46 KB | August 20, 2019 |
Last updated on September 11, 2020