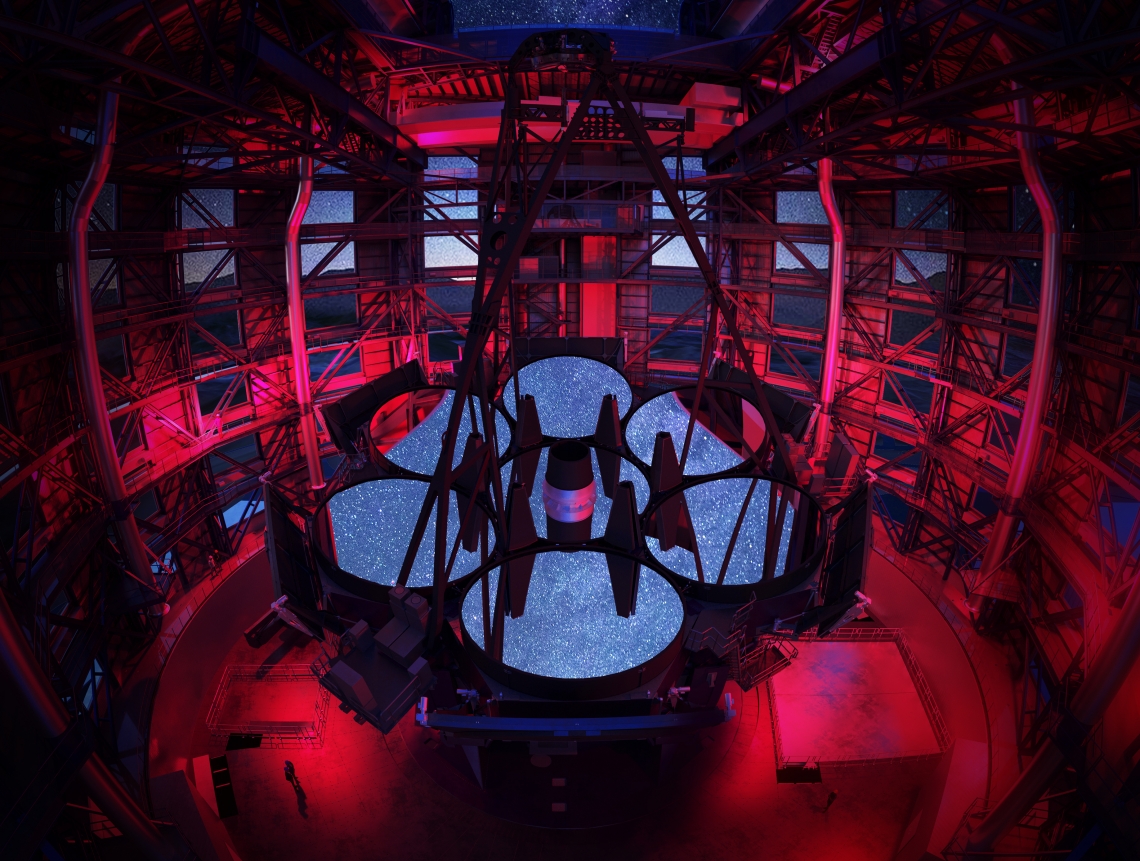 By Logan Burtch-Buus, University Communications - February 8, 2023
Space may be the final frontier, but it is also the subject of some of the University of Arizona's most financially impactful research. The university's astronomy and space sciences operations generate as much money for the local economy every year as a Super Bowl, according to an economic impact report delivered by Rounds Consulting Group.
The report had several key findings. First, the total yearly economic output of the university's space sciences operations is estimated at roughly $560.5 million. In addition, space sciences activities generate roughly $21.1 million in state, county and municipal taxes every year.
For comparison, Visit Phoenix estimates Sunday's Super Bowl will generate $600 million in economic impact for the Phoenix and Arizona economies. The 2022 Super Bowl generated up to $477 million in economic stimulus, $22 million in tax revenues and nearly 4,700 jobs for the Los Angeles and California economies.
In addition to generating millions of dollars a year, space science operations at UArizona constitute a significant return on investment – to the tune of 5-to-1. This figure is derived from the $20 million on average received by space science departments in state funding every year, and the more than $100 million per year in grants, philanthropic donations and contracts secured by the same departments over the past four years. University space sciences operations directly employ more than 900 students, scientists, faculty, education professionals and operations personnel.
Job creation due to space sciences goes beyond the university, however. Roughly 3,300 total full-time equivalent employees are supported by exploring the cosmos. That figure includes jobs in businesses supported by the economic growth of the university's space science pursuits.
According to Rounds' report, money generated by the university's space science activities has played "a vital role throughout Arizona's economy, advancing the growth of the astronomy and space science industries."
UArizona administrators say the report shines a light on the magnitude of the university's space sciences legacy.
"As Arizona's designated land-grant institution, our mission is firmly rooted in service to community, to the state and beyond," said Elizabeth "Betsy" Cantwell, UArizona senior vice president for research and innovation. "This impact analysis has allowed us to take an in-depth and holistic look at the economic benefits we create through research and innovation in one of our strongest areas."
College of Science Dean Carmala Garzione said the research conducted on campus benefits not only the scientific community but the community at large.
"As a state university, it's important that we understand the value of the education we're providing," Garzione said. "Not just to jobs that our students may be taking after they leave, but also to our local economy and our community. We support high paying jobs in science and engineering that reinforce our industry base in Southern Arizona and bring a higher quality of life to the community. I understand the value of science intrinsically, but knowing it extends to high economic impact reinforces my belief that we are pursuing the right type of science: science supporting society in our local region."
Hundreds of millions of dollars in yearly economic impact does not happen overnight or by accident, and is the result of decades of investment by UArizona leadership in space sciences, beginning in earnest in the 1960s. This foresight uniquely positioned the university to successfully secure the contracts and grants that bring high levels of funding from not only the federal government, but institutions and governments from around the world. These external funds are the reason the National Science Foundation's Higher Education Research and Development survey, which annually ranks more than 900 colleges and universities based on a variety of metrics, has listed the university No. 1 in astronomy and astrophysics expenditures each year since 1987.
A century of space science
Primarily based out of the Department of Astronomy and Steward Observatory and the Department of Planetary Sciences and the Lunar and Planetary Laboratory, space sciences have been an integral part of the university for more than 100 years.
Much has changed since Steward Observatory was officially created in 1916 and dedicated its first research telescope in 1923. Space sciences research now takes place across a variety of departments: Researchers in geosciences and hydrology and atmospheric sciences use spacecraft data to study Earth; physicists research cosmology and detail how gravity works; College of Medicine – Phoenix researchers investigate space medicine; engineers in the Department of Aerospace and Mechanical Engineering study the behavior of objects in space; and researchers in the Wyant College of Optical Sciences build sensors for telescopes and spacecraft missions.
"We're part of a whole intellectual enterprise, and much of our success is because of collaborations between all of these departments and all of the greater university expertise that we tap into and collaborate with all the time," said Mark Marley, director of the Lunar and Planetary Lab and head of the Department of Planetary Sciences. "It's not just planetary science and astronomy. It's the whole university and the expertise of all the other scientists at UArizona."
The university leads the way on NASA's OSIRIS-REx mission, which collected a sample from near-Earth asteroid Bennu in 2020 and will return the sample to Earth this year, and previously led the Phoenix Mars Lander mission to study the Martian surface – making UArizona the only academic institution to direct more than one NASA deep space mission, and the first university to organize a mission to Mars. The Lunar and Planetary Laboratory also manages the High Resolution Imaging Science Experiment, which provides high-quality images of the Martian surface.
While the university's planetary scientists primarily focus on bodies within the solar system, the Department of Astronomy and Steward Observatory has its sights set on the mysteries of deep space.
UArizona operates more than a dozen telescopes across the state, and helped build and operate observatories in Chile, Antarctica and in outer space. Steward Obervatory's Richard F. Caris Mirror Lab is fabricating the primary mirror segments for the Giant Magellan Telescope in Chile, and UArizona is one of the founding partners in this future observatory. Also included under the Steward Observatory umbrella are the Arizona Radio Observatory, the Mount Graham International Observatory, the Mt. Lemmon SkyCenter and the Sky School program.
Steward Observatory researchers were chosen by NASA to develop instruments for both the Hubble and Spitzer space telescopes, making UArizona the only institution to have led more than one instrument for NASA's Great Observatories. The university was also selected to lead two of the three instruments for NASA's James Webb Space Telescope.
UArizona Regents Professors and astronomers Marcia and George Rieke play integral roles in the James Webb Space Telescope, with Marcia serving as principal investigator for the telescope's and Near-Infrared Camera and George as science team lead for the Mid-Infrared Instrument. Both the Lunar and Planetary Lab and Steward Observatory use data from instruments like James Webb to understand the chemistry of planets around other stars.
Buell T. Jannuzi, head of the Department of Astronomy and director of Steward Observatory, said astronomers are trying to answer some of humanity's greatest questions: Where did we come from? Where will the universe end? How do galaxies form?
"Science fiction writers are dreaming up questions the same way astronomers are. The only difference is that science fiction writers will put their questions into a movie, while astronomers are going to go and look and see if they can answer their questions," Jannuzi said. "For more than a century, the students, staff and faculty of the Department of Astronomy and Steward Observatory have explored the universe together and shared what we learned with the world – and we are excited to continue our efforts into our second century."
It started with dark skies
UArizona is at the forefront of the space sciences, but what contributed to decades of success?
Tim Swindle, director of the University of Arizona Space Institute – a unit that supports the university's space science research efforts and works to apply the vast experience of UArizona in the space sciences to new areas – said the university has been a longstanding world leader in space sciences for a variety of reasons.
He said decades of successful research started with Arizona's clear skies, high mountains and dry climate, which created an ideal environment for astronomy collaborations. Once the lunar missions took shape in the 1960s, the university became a hot spot in the United States for research involving spacecraft since some of the discipline's preeminent minds already lived in the Old Pueblo. The university has since produced countless leaders in the field.
"Tucson is a place where almost everybody knows somebody who does space sciences, and many of those people work at the University of Arizona, but not all of them," Swindle said. "Between the university, commercial, federal and nonprofit ventures, there is a lot of space science activity in Tucson."
While the university's space sciences programs have been a financial boon for Tucson and the rest of the state, they have also generated a long list of notable accomplishments for UArizona graduates. Brian Schmidt, who graduated from the university in 1989 with a double major in astronomy and physics, won the Nobel Prize in Physics in 2011. Other alumni have served as directors of prestigious observatories; department heads and deans at universities; and leaders of large government scientific agencies.
"We have spread our wings so that a lot of people around the world who are involved in space science have some connection with the University of Arizona," Swindle said. "In fact, by now, some of our toughest competitors are our alumni. We are an educational institution, and we want to train the next generation of scientists."
Understanding humanity
The economic and scientific impacts of the university's space sciences can be proven empirically, but why are humans so fascinated by the cosmos?
According to the experts it all comes down to natural human curiosity. Space scientists are just acting on an insatiable desire to achieve some foundational understanding of humanity's place in the greater context of the universe – and translate that understanding into tangible benefits for society at large.
"We are always curious about who or what is out there," Swindle said. "We want to know what else there is, and we're a curious species. Space is an obvious place to stretch that curiosity. Humans are always fascinated by a frontier, and space represents a frontier. It represents possibilities. And while it's fascinating to imagine the possibilities, we want to try to figure out which ones are real."