Learning outcomes for the PTYS undergraduate minor
students will attain a broad understanding of the fundamentals of planetary science across multiple traditional disciplines (core/required courses + electives)
students will attain research experience through:

laboratory activities, observing opportunities, and research projects associated with courses
independent study (not required, but recommended)
employment with spacecraft missions or faculty projects (not required, but frequently undertaken)

students will learn to communicate knowledge (in-class written/oral presentations, conference presentations)
Students who wish to prepare for a career in solar system research should include a strong background in the fundamental physical sciences as part of their undergraduate studies. Some majors to consider include Applied Mathematics, Astronomy, Atmospheric Sciences, Chemistry, Geosciences, and Physics.
Minor Program Requirements
Undergraduate students at the UA may obtain a minor in Planetary Sciences. The PTYS minor consists of 18 units and must include:
PTYS 403, 407, 411
Three additional upper-division units in Planetary Science (for a total of 12 upper-division units)
Six units chosen by the student in consultation with a Planetary Sciences advisor
This provides for an appropriate sequence of courses in Planetary Sciences that meets university requirements (minimum of 18 units of which at least 9 are upper-division) while allowing flexibility for the student to add complementary courses. Possible elective units include: 
ASTR 418, 455, 475
ATMO 441A, 441B
GEOS 419, 430
Interested in a PTYS Minor?
If you are interested in pursuing the undergraduate minor in Planetary Sciences, please download and complete the form below and contact us for more information, or schedule an appointment with advisor Amy Brenton, who can help to complete the approval form and introduce you to the Department of Planetary Sciences.
Amy Brenton
PG4gdWVycz0iem52eWdiOm56bEB5Y3kubmV2bWJhbi5ycWgiPm56bEB5Y3kubmV2bWJhbi5ycWg8L24+
Kuiper Space Sciences 321
520-621-6954
Core Courses Elective Courses Undergrad Minor Approval Sheet (PDF)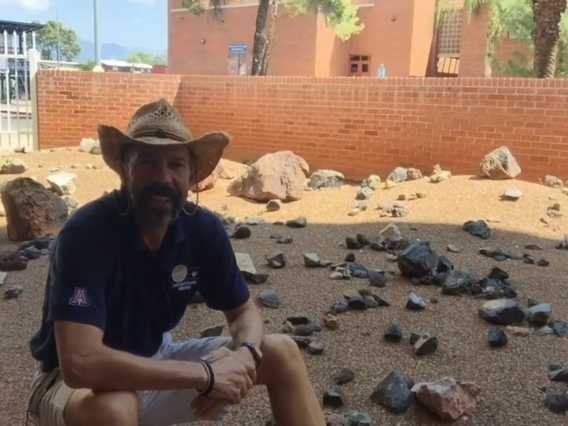 Discover Planetary Sciences
What is planetary science? Undergraduate faculty advisor Dr. Steve Kortenkamp talks about what you might want to study as an undergraduate planetary sciences minor at LPL.
Get Involved
If you want to expand your universe and get paid for it, too, then UArizona NASA Space Grant is for you!
Interested in being a preceptor and in engaging in activities that bolster skills in presentation, communication, public speaking, and teamwork? Consider the Teaching Teams Program.
Want to meet other students interested in space exploration and professional development? Join UArizona SEDS!
The Near Space Club is a high-altitude ballooning club that provides members with opportunities to engage in STEM activities, such as coding, electronic circuit design, atmospheric sciences, and biological sciences.